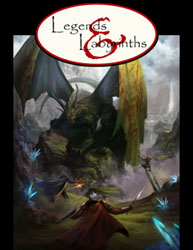 To pull something of a silver lining out of the 8-Bit Funding version of Legends & Labyrinths getting a final axe to the head (as painful as that remains for me): I am now free to share the Black Book Beta with all of you. (And I know there are many people who didn't have a chance to fund the project who have been begging me for months or years to get a peek at it.)
The Black Book Beta was designed to give funders a usable first peek at the rule system and it's exactly what the name says it is: A beta version of the rulebook. Most notably the volume is missing an index and the full versions of the Grimoire, the Treasury, and the Bestiary. Fortunately, the game is 100% compatible with 3rd Edition, so you can just use the spells, magic items, and monsters from the books you already own (or use the online SRD if all else fails); so the Black Book Beta remains a fully functional and fully playable game.
For those of you currently unfamiliar with Legends & Labyrinths, check out this post describing its many virtues. Because it's 100% compatible with 3rd Edition, you can use any supplement or adventure module for 3rd Edition in Legends & Labyrinths without any conversion whatsoever (despite the fact that Legends & Labyrinths is a massively streamlined and simplified version of the system).
The flip-side of 100% compatibility also means that you can rip out some of the awesome sub-systems of L&L and use them directly in your 3rd Edition campaign. For example, you should check out the stunt system, the hazard creation system, and the monster creation system. (The last of these also makes it really, really easy to convert pre-3E material to L&L or 3E.) Oh! There's also a streamlined, budget-based system for building encounters.
But without further ado, here we go: