One of my goals with this series of brainstorming posts is to find ways to encode as much data as possible onto the dungeon map itself. This is partly to supplement the map key, but it's also about removing some types of information from the map key in order to make the key itself easier to use.
One example of that would be ceiling height. Although this information is often forgotten about entirely (which becomes increasingly problematic as the PCs start levitating and flying), if it were to be habitually included in the key it would become an extra bit of clutter to parse.
On the dungeon map, however, I think it adds clarity and can be easily referenced. Assuming, of course, that we have a clear method for doing it.
On cave maps, differences in elevation and height will often be indicated by simply listing numbers. For gaming maps, however, I've found that this approach – mixed with a numbered room key – often results in a confusing map. Different font sizes and/or text colors can aid in comprehension, but the layout still often comes across as fairly muddy to me.
Consider this solution adapted from Aeons & Auguries, however: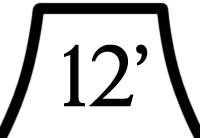 The symbol clearly sets off the number and allows quick identification for what this number (in a potential myriad of others) is referring to.
More generally, if we combine this with our symbol for light sources, I would argue that we have the basic workings for giving each room a "detail legend". Let's try it out: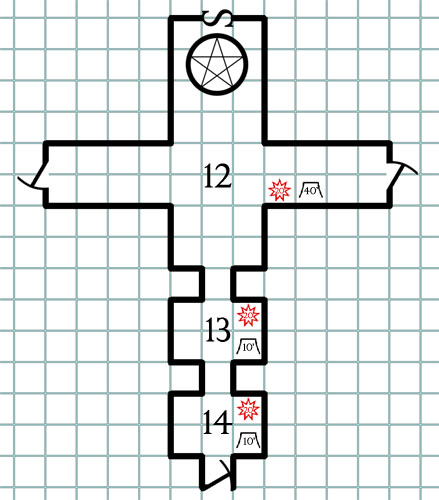 Probably needs some tweaking on the starburst symbol in either size, design, or font to make it more legible. But the basic principles seem pretty sound and easy to read: At a glance I can tell that all three rooms are lit with candle-strength lights (20′ radius), while the ceiling in area 12 rises to a high vault 40′ above the heroes' heads.
If the map allows, it would probably also be pretty easy to place the detail legend for a room next to the room, possibly with some kind of grouping iconography to make it clear which room the legend belongs to: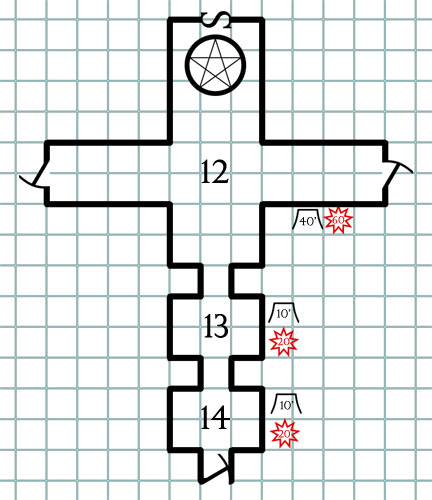 CEILING FORMS
What about unusual ceiling shapes? any way to get those on the map?
Here's how the UIS keys ceiling forms for cave maps: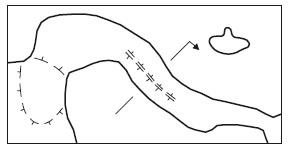 We could probably use a simple version of the same, keying from our ceiling height legend: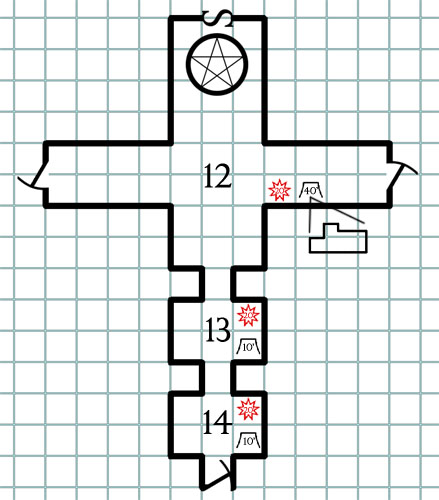 Not something you need for every room, but potentially useful for when those sorts of details become important.

Go to Part 5: Pit and Chimneys
This post is part of the RPG Blog Carnival for Cartography.