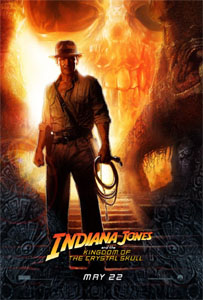 I thought I'd written this on here before, but apparently I was just imagining that. In regards to Indiana Jones and the Kingdom of the Crystal Skull:
I would like to thank George Lucas for making the Star Wars prequels. Without the valuable training I have gleaned from those films, I would have found it much more difficult to ignore all the ridiculous foibles of this film and enjoy it as much as I did.
The trick, you see, lies in being able to instantly assess that something is both incredibly lame and completely irrelevant to the film. You then jettison that information instantaneously and go back to enjoying the rest of the film (which is rather good).
Michelangelo is quoted as saying, "I saw the angel in the marble and carved until I set him free."
I have a theory about George Lucas: He's like Michelangelo. Except he's gotten lazy and he doesn't bother carving away all of the marble necessary to reveal the angel. The portions of the angel that you can see are still pretty awesome, but there's all this other marble — the absurdities, the bathroom humor, the extraneous nonsense — getting in the way.
And, as I say, the Star Wars prequels trained me pretty well in the "fine art" of ignoring all that excess marble Lucas leaves lying around. So Lucas throws in some stupid scene with Shia LaBeouf swinging around like Tarzan and leading a tribe of monkeys, and I promptly reach into my brain, grab that idiocy, throw it away, and pretend as if the film existed without that scene (or the many other scenes like it).
And I'm happier for it.
Of course, the film itself is still flawed. But at least this way I can enjoy — in a somewhat marred fashion — the angel that could have been.
So, long story short vis-a-vis Kingdom of the Crystal Skull: A decent enough flick. I was hoping that Spielberg would be more successful in reining in Lucas' excesses, but despite that it's enjoyable enough. I mean, it's not even close to being a Raiders of the Lost Ark or an Indiana Jones and the Last Crusade, but it's fun enough.