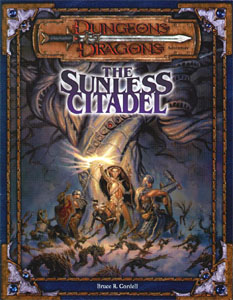 If you'd be interested in playing in a forum-based D&D adventure run by me, you should pop over to Basketweavers vs. The Sunless Citadel on theRPGSite and sign up. It's first come, first serve. I'm hoping for a frequent updates schedule, so please be prepared to commit at least daily attention to the thread.
Fair warning, though: This is a bit of an odd bird. The run-thru is being motivated by a poster on theRPGSite named Mr. GC who is arguing vociferously that "basketweavers" — i.e., non-optimized characters — cannot play D&D. The opposing contention is that it's absolutely trivial for non-optimized characters to play D&D, particularly if they're adventuring in an open sandbox that allows them to select the challenges they want to face at any given moment.
In order to simulate that scenario, we'll be using a very strange set of character creation guidelines set by Mr. GC for creating a party of "basketweavers" and then assuming that this particular party of "basketweavers" has selected The Sunless Citadel for their next adventure.
The particular version of The Sunless Citadel I'll be using will be slightly modified from the original. But if you are familiar with the scenario, you may want to sit this one out.