IN THE SHADOW OF THE SPIRE
SESSION 7B: BLOOD IN THE DEPTHS

May 5th, 2007
The 23rd Day of Amseyl in the 790th Year of the Seyrunian Dynasty
 LINECH'S JOB

After lunch the party headed back to the Ghostly Minstrel so that those who had changed for the occasion could switch back to clothing which would make them appear more like the rough-and-ready wanderers that it sounded like Linech was looking for.
Linech, it turned out, owned an entire burrow in the Rivergate District. Everyone living there worked for Linech – either directly or indirectly. In truth, the entire place was basically a walled compound. They could see several armed guards scattered here and there amidst the buildings.
Entering the lower level of Linech's place of business, the group was greeted by a young man with his hair pulled back into a ponytail. He asked them their business and, when they told him they were here for the job, he led them upstairs.
Asking them to wait outside for a moment, the man headed through a door. They couldn't hear what the man said about them, but they did hear the bellowing voice which replied: "Well what are you waiting for? Get 'em in here!"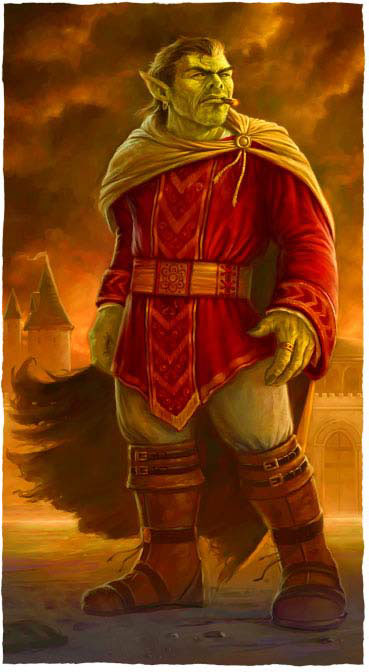 The door opened and the group was ushered into a large office that had been garishly decorated. Perhaps the most arresting sight in the place was the life-sized gold statue of a nobly-dressed man which stood opposite the door. Behind a large desk covered in papers they saw the half-orc Linech. He bore an uncanny resemblance to his brother – he even seemed to be mashing the same brand of cheap cigar between his teeth.
After some discussion the group had agreed, with some trepidation, that Agnarr should be the one to talk. As unlikely as it seemed, he was the most appropriate person considering the circumstances. ("You're all on Agnarr's team now.") So when Linech demanded to know who they were and what they wanted, he stepped forward: "We're delvers. We're here for the job."
"Delvers, eh?" Linech said. "How do I know you're cut out for this job?"
Agnarr grinned. "Cut out for the job? Just look at us. I'm a barbarian, he's a priest, he throws spells, she's got a sword, and she's a sneaky elf. We're exactly what you're looking for."
"Fair enough. All right, here's the deal: I love my daughter dearly. I sent her on retreat to an estate I keep on an island off the coast. A week ago someone attacked the resort. They burned it to the ground and she was killed. I sent a ship to retrieve her body so that she could be buried with full rites in the Necropolis. But last night, when the ship was returning to Ptolus, it caught on fire and sank in the harbor. I think somebody attacked it. I think somebody is trying to hurt me. Why, I don't know. But it's important to me that my little girl be given a decent burial. So I want somebody to go down to the wreck and retrieve her coffin. And I want somebody who can defend themselves if it comes to it. For this, I'll pay you 1,200 gold pieces. How's that sound to you?"