Tagline: Edgy humor, industry news, and high-gloss production values. The new kid on the magazine block, Games Unplugged shows a lot of potential.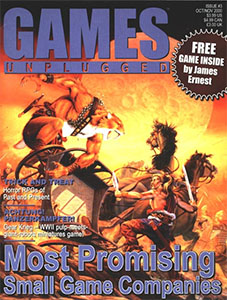 I've been looking at the cover of the first issue of Games Unplugged for several months now (it's been posted on their website). It's a picture of a Scotsman, in his kilt, wielding a two-handed sword. It's fairly well executed (although the guy is not particularly convincing as a threat – he's terribly unbalanced), but it instilled in me great reservations concerning a magazine I was otherwise fairly excited about laying my hands on.
I know, I know. One shouldn't judge a book by its cover, but this image was so ineffective as a cover it raised some serious reservations about just how much effort and capital was being invested in making this magazine a success.
And that's all the bad news you're going to get in this review, because any lingering fears or paranoia I may have had were more than unjustified. Games Unplugged is well worth your time.
The magazine has three primary focuses, and all of them are delivered upon en force: Industry News, Reviews, and Insight. All of these, of course, feed into the core of GU's primary goal: Serving as an industry newsletter, by hyping not only products but people.
INDUSTRY NEWS: Perhaps the most surprising thing about GU's industry news features (including "Da Buzzzzzzz" and "Gameorandum", along with feature-length articles), is the fact they have actually managed to report on things with which I was not previously familiar in the industry. For example: The second edition of Blue Planet. The return of Cosmic Encounter (woo-hoo!). The second edition of Big Eyes, Small Mouth (the fact I missed this one is particularly noteworthy). The Sovereign Stone revised hardcover (high hopes here). I consider myself to be fairly well plugged in to various industry channels, so the fact that GU is trumping me not only proves the magazine's worth – but also demonstrates that they're really on top of their ball where this is concerned.
REVIEWS: I love reviews. I write 'em. I read 'em. I love 'em. And Games Unplugged is chock full of them. This issue had over twenty pages of them (ranging from full page, in-depth pieces to snippet previews), covering dozens of products. (There's a negative side to this, of course: My "To Buy" list swelled prodigiously as I read through them.)
INSIGHT: Here's where the magazine really shines for me, though: Not only do GU's staffers discuss various facets of the creative personalities behind the products we all know and love, Games Unplugged is also providing a forum for those creators to speak out in their own right. This first issue, for example, has Robin D. Laws discussing the design principles of Hero Wars, Shane Hensley describing the development process of Lost Colony, and Gary Gygax talking about the early days of TSR (in a recurring feature which will discuss the earliest days of the major game companies).
Beyond all of this (which has already, in my opinion, justified the $4 cover charge), is there any other reason you should pick up Games Unplugged?
Wellllll…. How about all new SnarfQuest strips? That's right. Elmore is back, and although I wasn't terribly impressed with the inaugural strip (too much recapping for new audience members, leading to some poor pacing throughout the piece) I have high hopes.
I also enjoyed the "Local Retailer Order Form" – basically a list of products which were mentioned in this issue of Games Unplugged, letting you easily check off what you're interested in. Then you give the form to your local retailer, as an easy way of letting them know of products you'd like to see on the shelves (or are willing to special order). In a market where too many local retailers aren't carrying products, it's nice to see this encouraging feature.
CONCLUSION
At the end of the day, do I think you should get a subscription? Absolutely! Do I think you should at least give it a look? Positively! If nothing else, should you at least look at their webzine? Why the heck wouldn't you?
[ Note: This is a review of a PDF version of the magazine provided by Dynasty Presentations specifically for preview purposes. Potential Sources for Bias: I intend to write reviews for Games Unplugged in the future. Plus, they give a really nice review of Dream Pod 9's Jovian Planet Sourcebook for their Jovian Chronicles, a book which I helped write. ]
Style: 4
Substance: 5
Author: Various
Company/Publisher: Dynasty Presentations, Inc.
Cost: $3.00
Page Count: 64
ISBN: n/a
Originally Posted: 2000/05/09
One thing I've learned is that this industry is intensely hostile to disclaimers of potential bias from reviewers. Particularly the revelation that a review copy was provided. Stuff that is just bog standard procedure for reviewers in every other industry is viewed by a certain segment of the gamer community as some sort of dark heresy. There were at least a half dozen people who were outraged — outraged! — that Games Unplugged had given my book a good review in exchange for a good review of their magazine. (You'll note that this is not what actually happened.)
In any case, at this point in my life I was a huge grog-head for reviews and RPG industry news: Games Unplugged was basically a magazine designed specifically for me. Of course, it's totally unsurprising that it was out of business less than two years later. It was exactly the type of magazine that the internet rendered totally obsolete and it was premiering at exactly the wrong moment in history.
For an explanation of where these reviews came from and why you can no longer find them at RPGNet, click here.