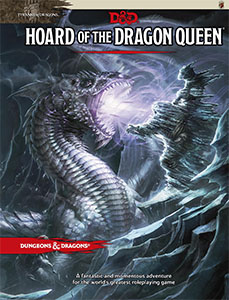 Meh.
The primary arc of Hoard of the Dragon Queen is disappointingly linear. Disappointing because the concept is so delightfully ripe for a non-linear approach: The Cult of the Dragon has abandoned its previous plans of turning dragons into dracoliches and has allied itself with a variety of living dragons and their half-breed offspring to free Tiamat from her infernal prison. In order to do this, feuding factions within the cult are seeking out five powerful artifacts which take the form of dragon masks (one for each of Tiamat's chromatic heads).
Five masks lost in disparate locations? Multiple cult factions simultaneously pursuing semi-compatible goals?! When I first read the background I was absolutely convinced I was about to read the D&D equivalent of Masks of Nyarlathotep and have my brain blown at the prospect of node-based scenario design being used as the introductory campaign for an entire generation of gamers.
Sadly, not to be.
Instead, the campaign is a pretty rigid "go to X, then go to Y, then go to Z" affair. Hoard of the Dragon Queen makes up for this, however, by designing most of the individual scenarios along its path in a delightfully non-linear fashion: Enemy strongholds are set up to reward frontal assaults, physical stealth, and clever infiltration. Fractious factions can be turned against each other using a variety of methods. Alliances can be forged and broken in myriad ways. Enemies surrendering and being questioned (instead of fighting bloodily to the death) is gloriously well-supported. Token guidance is even given for PCs who go wandering off the intended path on wild goose chases. And all of this goes hand-in-hand with a very utilitarian presentation which is starkly at odds with the overwritten-to-useless style which has afflicted a lot of published adventures in the last decade.
Which makes the scenarios where this liberal and refreshing approach is supplanted by a rigid railroad all the more puzzling.
This really only afflicts a couple of the scenarios, but unfortunately one of them is the first scenario and it's laughably atrocious: There's a lengthy sequence where the PCs are besieged in a castle (after getting railroaded into it, of course). The PCs are then supposed to go to the local duke (who basically has a yellow exclamation mark over his head) and get a quest to fight their way out of the besieged castle and accomplish some goal in the town. Then they fight their way back through the respawning kobolds on the drawbridge, return to the duke (who the adventure literally says waits for them in the same spot on the castle battlements), get their next quest, and then fight their way out again.
And if they do that two or three times, they'll unlock a dialogue option where the duke tells them about a secret passage leading out of the castle so that they can bypass the respawning drawbridge encounter going forward.
It's kind of astonishing that I kept reading the adventure after that.
Can I also take a moment here to point out that the campaign hook for Hoard of the Dragon Queen is absolutely ridiculous? The PCs are approaching a random town, crest a hill, and discover that it is being attacked by a dragon. Okay. That's fine. But then the campaign assumes that the 1st level PCs are likely, when confronted with that sight, to decide that their best course of action is to walk into the town.
(Did I mention that the dragon is also accompanied by an entire army?)
Maybe I'm just spoiled by having players who aren't seriously brain damaged, but I literally cannot imagine a scenario in which that hook would work.
But what kills Hoard of the Dragon Queen is not its inconsistent design. Nor its occasional absurdities. Nor the plentiful continuity errors. Nor the horrific editorial shortcomings. Nor the completely inadequate maps (some of which appear to be missing entirely, some of which don't match the text, and many of which lack keyed entries they're supposed to have).
No. What kills Hoard of the Dragon Queen is that it's so incredibly boring.
And I'm not talking about one of those adventures that's just boring to read on the page. I mean that the contents of this adventure, basically from top to bottom, are generic and dull and trite and uninteresting: There is no kobold that isn't a generic kobold. There is no bedroom that isn't a generic bedroom. There is no swamp which isn't a generic swamp. And there is absolutely nothing fantastical or wonderful or unique or memorable.
(The obvious rejoinder here is that a good GM could still take this material, work miracles upon it, and make it totally awesome during actual play. Of course they could. But a good GM would also know better than to use such a flat and uninspiring foundation in the first place.)
To be fair, there are a couple of exceptions to this general dullness. (Flying stolen wyverns to intercept the flying castle of a giant is the most notable one.) But for a campaign which I'm assuming will take at least 40-60 hours of table time to complete, those slim exceptions are wholly inadequate.
Which, ultimately, brings me back to the reaction I had most consistently and finally to Hoard of the Dragon Queen:
Meh.
Outside of a few truly awful sequences in the first scenario, there's nothing here that's really terrible. But there's also nothing to be found between these covers to justify spending $30 on it (let alone another $30 on the essentially mandatory second volume). Most damning, however, is that Hoard of the Dragon Queen also lacks anything which will reward the countless hours of ponderous and forgettable playing time that you would languish upon it.
Grade: D
A guide to grades here at the Alexandrian.