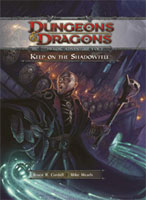 Keep on the Shadowfell was the inaugural product for 4th Edition. I was fairly disappointed with the quality and the content of the module, but I wanted to playtest the new edition. So I decided to do a fairly expansive remix to give the adventure a stronger backbone and a richer mythology; adding depth and breadth where necessary.
You can download a complete cheat sheet of the entire remix here:
The following is a complete index of all my Keep on the Shadowfell-related posts.
INITIAL IMPRESSIONS
First Impressions
Impressions with Spoilers
Last of the First Impressions
ANALYZING DESIGN
Traps and the Chamber of Statues
Remixing the Chamber of Statues
Rotten Cherubs
REMIXING KEEP ON THE SHADOWFELL
Part 1: Kobolds
Part 2: The Kobold Lair
Part 3: Arriving in Winterhaven
Part 4: On the Streets of Winterhaven
Part 5: On the Streets of Winterhaven 2
Part 6: Winterhaven NPCs
Part 7: Winterhaven NPCs 2
Part 8: Winterhaven Developments
Part 9: Cultists in Winterhaven
Part 10: The Ruined Keep
Part 11: Kalarel's Ritual and the Dragon Burial Site
Part 12: The Three Clue Rule
Part 13: Three Clue Rule – First Revelations
Part 14: Three Clue Rule – Second Revelations
BELATED ADDENDUMS
How (Not) To Fix the Keep on the Shadowfell
A Much Belated Addendum
Jaquaying the Dungeon