While I was at GenCon this year I played in one of the most memorable convention scenarios: Lord of the Hives by Threat Detected. It featured three gaming tables participating in a series of linked, timed tournament scenarios: The success or failure of a group during a particular round would directly impact the situations encountered by the other groups during the next round.
I was at the pilots' table and played a young Admiral Ackbar in his pre-admiral days. There were, of course, copious outcries of, "It's a trap!" We actually started the game playing a game of sabbac on the hangar deck, so my first line of dialogue in the game was: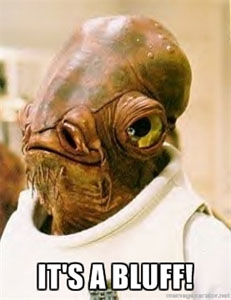 Good times. Like most good gaming experiences, it featured a combination of clever scenario design and people who were fun to hang out with.
I bring this up, because Threat Detected has posted a Gallery from the event and a podcast featuring a Post-Play Round Table from the session. You can see me obliquely in the former and hear me briefly in the latter.