Tagline: The concept of the Trinity Field Reports is excellent, and this work is filled with healthy tidbits and intriguing hints of things to come. Two thumbs up, ten out of ten, five stars, and kudos are all in order.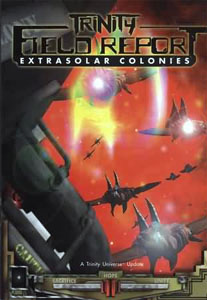 When the original, limited edition of Aeon (The Game Which Would Become Known as Trinity) came out I snatched up a copy – I loved that hard black plastic cover and the slick interior design at first glance; and I'd been hearing good things about it for months.
Perusing it I was definitely not disappointed (as anyone reading my review of the game elsewhere on RPGNet can attest). About the only serious problem I had with it was that, although it had a fascinating setting which was obviously going to develop in a fantastic manner, not enough information was given about certain elements of the game to make me feel comfortable about running it immediately.
One of the specific problem areas I sited were the "lost colonies": Several years before the start of the game Earth had lost contact with five colonies located out in deep space, and we were informed that only "just now" was contact being re-established. The game was even hyped in some places as "taking back the stars". The problem was that although we were told that contact was being renewed even as the game begun – and that a primary plot suggestion was for the PCs to go out to those planets – absolutely no useful information was given about what they were going to find there. Did the mining colony under attack by a hostile alien species get destroyed? How did the rebellion on another turn out?
After posting my review here at RPGNet I became vocal about this problem on the various Internet forums, newsgroups, and mailing lists. By various people I was told that I could "do whatever I wanted" since things hadn't been defined. As I pointed out at the time, this missed the whole point. Obviously Andrew Bates, Trinity's designer, had a plan of how these events would unfold – and I wanted to be lead down that path and tie his meta-story into the specifics of my campaign. Unfortunately there was no way for me to proceed at the moment because if I – for example – sent the PCs to the mining colony and had them discover that it had been completely destroyed, only for it to turn out later that it had not been destroyed and would play a major role in the future development of the Trinity universe, I would be royally screwed and I, and my group, would be unfairly excluded from using the unfolding developments.
There is a narrow line between "not giving everything away" and "giving enough clues so that we don't misstep" that the basic Trinity game had overstepped. All of that being said, Trinity Field Report: Extrasolar Colonies not only vindicates my conviction, but also solves most of my problems.
First, it vindicates me because these twenty-five pages are exactly what I thought was lacking in the main rulebook – and the quality of material found here is fantastic. Extrasolar Colonies takes the format of selections from the actual reports of the jumpships that traveled to the distant colony worlds, and it is used to drop hints and tantalize us very effectively. A direct measurement of how successful this product was lies in the fact that when I reached certain places where "data decay in transit" had caused the message to become unreadable I would occasionally yelp in frustration (so I'm a dork, but it's an indication of the success of the product – that nobody will deny).
"Wait", you might be saying, "if they're still omitting data which is so important that you're yelping because you don't know it – isn't that still a problem?" Not at all, because this time they only excluded information which will end up advancing the meta-story. However, they gave me enough of the broad, general details that I can still take my PCs out there and explore the colony worlds. The trick is to give me enough information so that I don't end up stepping on the toes of future products, but not so much as to ruin the surprises. It's a balance which the core rulebook failed to maintain at places, but which this product nails perfectly.
Second, it solves most of my problems because of the price of this product. At $4.95 for 25 glossy, full-color pages these Field Reports are excellent impulse buys and a great format. I can even hand this stuff directly to my players because it's not only presented as in-world source material, but it's source material which doesn't reveal any "deep, dark secrets" (although it may hint at them). Any product which is cheap, has high production values, has great source material, and is useful for both the GM and the players gets automatic high ratings in my account of things for obvious reasons.
I do have a remaining problem: I've never liked the tendency of game lines to become "supplement oriented" – where the game, instead of focusing on one or two core products from which you can optionally branch off as you need, instead has no central core and, instead, expects you to pick up at least 95% of the supplements produced for the game. Although the Field Reports are cheap and seem to be targeting the specific areas I noted as lacking in the core sourcebook (besides the colonies I also mentioned aliens, which is the subject of the other Field Report released to date) I am not particularly happy that it was necessary for me to buy them in the first place (although I probably would have anyway).
However, that particular problem is with a minor concern I have regarding the game line as a whole – a concern which, so far, has been outweighed by the general high-level of quality material being released for it. This product, in itself, is excellent not only on the merits of its concept, but on the merits of its implementation. Hey, at $4.95 how can you go wrong?
Style: 5
Substance: 5
Author: John Snead
Company/Publisher: White Wolf
Cost: $4.95
Page count: 25
ISBN: 1-56504-771-0
Originally Posted: 1999/01/24
These books really were the perfect impulse buy. Back in 1999, my go-to gaming shop was Phoenix Games on Lake Street in Minneapolis, MN. I remember the Field Reports fondly because at $4.95 a pop they were like full-color candy to an RPG addict like myself.
For an explanation of where these reviews came from and why you can no longer find them at RPGNet, click here.