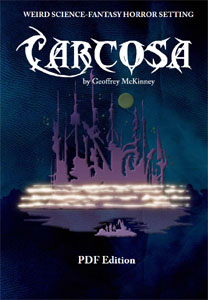 Part of my general dissatisfaction with Geoffrey McKinney's Carcosa is certainly due to a difference of opinion when it comes to methodology.
First, whether we're talking hex keys or dungeon keys, I'm extremely skeptical of key entries that consist of nothing more than a list of monsters. This is particularly true of published products, and yet a depressingly huge number of Carcosa's key entries consist entirely of things like "17 Diseased Guardians", "13 giant lizards", and "5 Mummies".
It's bland and it's boring. It's also virtually useless.
Unfortunately, this generally remains true of Carcosa's key even when more details are proffered. For example, massive chunks of the book consist of, "[Settlement type] of # [type of human] ruled by [insert title], a [alignment] [level] [class]." (For example: "Village of 400 Green Men ruled by 'the Peerless Will,' a neutral 8th-level Fighter.") And even more are dedicated to describing the particular physical characteristics of various Spawn of Shub-Niggurath, all of which were generated using the charts found at the back of the book with no additional creative thought applied whatsoever.
And that, ultimately, is probably the biggest indictment against Carcosa's hex key: Virtually all of it could have been more usefully rendered as a half dozen random tables.
Second, even when the hex key shows greater creativity, it usually takes the form of material which is non-actionable during an actual game session. For example, hex 2004 is keyed:
A Brown Man, dressed in immaculate white robes fringed with golden embroidery, rests quietly by the side of the path. He acknowledges with a barely perceptible nod. It would be wise to return this show of respect with a dignified bow or curtsy.
… or what? He'll attack? He'll shed his skin and reveal himself to be a Spawn of Shub-Niggurath? He'll curse them? He'll turn out to be a demi-god? He'll betray them to their worst enemies?
The argument can, of course, be made that the purpose of the key is merely to serve as a creative seed for the GM. But, if so, why is McKinney so delightfully enamored with the words "cannot" and "never"? Let's proffer hex 2105 as an example:
Drums, the clash of war cymbals, and the deep clangor of a mighty gong can be heard coming from the desert. The sounds taper and crescendo with the bluster of the wind, but their source can never be found.
Even if this wasn't the umpteenth time I'd read some variation of "there are mysterious sounds and you can never figure out what they are", you can't try to defend half the hex entries by saying "just ideas to develop" while the other half of your hexes are trying to stifle the development of those ideas.
I recognize that many of these elements are historic qualities of classic hex-based supplements like the Wilderlands. But Carcosa is a particularly bland and repetitive instantiation of the form, and I also think 1976 was a long time ago. Similarly, while I may find Palace of the Vampire Queen a fascinating historical oddity and revolutionary for its time, anybody trying to sell me a dungeon designed like that today is not going to win my applause.
TO THE GOOD
One point of particular interest in Carcosa are the sorcerous rituals. These have received a good deal of attention because many of them require specific vile acts in order to perform them (murder, rape, and so forth), but that's largely a tempest in a teapot. (Although the critics would lead you to believe that they're graphic snuff pornography, the reality is that the vile acts — while specific — are not detailed or described in any sort of lurid detail. If rape or violence against children are trigger words for you, you should probably avoid this book. Otherwise, you'll find more graphic stuff in a Clive Barker, Jacqueline Carey, or Stephen King novel.) What I actually find interesting about the sorcerous rituals is that they provide an innovative method for motivating and directing the exploration of the hex map.
For example, the Approach of the Farthest Rim, "can be performed only in the lost fane in hex 2401". Whether the PCs are trying to stop a sorcerer performing this ritual or playing villains attempting to complete the ritual for themselves, this kind of specificity will drive them out into the wilderness of Carcosa: They have to find that fane. In fact, even if the ritual is not being performed (by the bad guys or the PCs), learning the details of the ritual inherently provides a hook: What else might be inside the fane?
That's a clever structure for delivering scenario hooks and I'll almost certainly be lifting it in the future.
In a similar vein of derived utility, the random charts for Spawn of Shub-Niggurath, Space Alien Armament, Random Robots, and Mutations are all fairly well done.
All of this, unfortunately, is fairly brief in character and scarcely justifies the purchase price for Carcosa. Which regrettably brings us…
TO THE FURTHER BAD
Overwhelmingly, my disappointment with Carcosa stems from the lack of anything truly weird or creative in the setting. The book bills itself as a "Weird Science-Fantasy Horror Setting" and I was expecting a creative burst of the unique, the bizarre, and the alien. What I got instead was "9 Tyrannosaurus Rexes". (And, no, occasionally adding the words "mutant", "radioactive", or "fungoid growth" to the tyrannosaur doesn't actually make it notably more interesting.)
Adding to the supplement's weakness is the extremely questionable quality of McKinney's house rules. Basically, the book starts by detailing a lengthy system in which you use a d20 roll to randomly determine what type of dice you roll before rolling them (d4, d6, d8, d10, or d12). If you squint hard enough, you can almost have this make sense for Hit Dice (which McKinney has you re-roll at the beginning of every combat), but when he goes on to do the same thing with weapon damage (so that every time you make an attack you roll one of every die type and then use the d20 to determine which of the other dice count) all you can do is start backing away slowly.
Unfortunately, you won't be quick enough to avoid the next page where he lays out the statistical analysis which demonstrates that, on average, all of this extra complexity and dice rolling has virtually no effect whatsoever.
And then there's a whole related mechanic where you have to keep track of multiple hit point totals for each character… But I digress.
Finally, although other options are proffered, the supplement largely bills itself as a place to run full campaigns. (The book even includes an introductory adventure.) But there's no place on Carcosa that's accessible to new characters. Virtually every keyed encounter in the book is aimed at mid-to-high level play. (And most of those seem to be heavily inspired by the Tomb of Horrors "save or die… actually, screw it, just skip the save: you're dead" school of design.)
For example, the starter adventure is set in hex 2005. Despite being specifically and explicitly aimed at 1st level characters, this module includes random encounters with 10 HD monsters. (And the hexes immediately surrounding hex 2005 are no better: Hex 2004, for example, contains five aggressive 10 HD monsters. If you follow the standard hexcrawling practice of automatically triggering the keyed encounter when the group enters a hex, anybody who strays too far north during the intro adventure is going to get TPK'ed.)
IN SUMMARY
There's really no question that Carcosa is a truly gorgeous volume. Lamentations of the Flame Princess have lavished the volume with fantastic illustrations by Rich Longmore; the paper is thick and luxurious; the binding is superb; the layout and cross-referencing are superb. (The PDF is somewhat flawed by the decision to de-synch the page numbers and make it unreadable on e-readers and tablets, but this is somewhat compensated by the encyclopedic cross-linking.) It even comes with a cloth map, which — as an old fanatic of the Ultima computer games — is a decision I absolutely adore.
But, ultimately, all of this glitzy extravagance surrounds a hollow core. Most of the book is nothing more than rote mediocrity, large chunks of the rest are unusable in any form, and, when all is said and done, you will come away with nothing more than a dozen or so decent ideas that might be useful if you polish them up a bit. That's a good showing for a blog post, but for a $40+ supplement? It's a disappointment.
Style: 5
Substance: 2