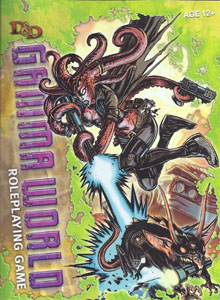 Since writing my review of D&D Gamma World, I have GMed two more sessions of the game while picking up a couple new players. On the basis of these sessions, I offer this random assortment of final thoughts on the game:
(1) The "incompleteness problem" (where powers will reference and use rules which are present in 4th Edition but have been removed from Gamma World) is really huge and glaring. It proved to be far more troublesome than I had anticipated. If I didn't have previous experience with D&D, I would have quickly found Gamma World completely unplayable.
(2) Encounters in 4th Edition just take too damn long. When I put together The Egyptian Incursion I thought it would be a fun little one-shot: 6-7 modest combat encounters, a light scaffolding of investigative work, and some evocative Egyptian pulp mythos. Instead it took three sessions, with even the simplest combat encounters taking 70-90 minutes to resolve.
(Direct contrast: On Friday, I ran Gamma World. One of the encounters was a big, solo bruiser vs. 5 PCs. It took 70 minutes. On Saturday, I ran my Ptolus campaign. One of the encounters was a big, solo bruiser vs. 6 PCs. It took 15 minutes.)
(3) I made a strategic error in handling the final encounters of the adventure. I momentarily forgot the system I was using and made the mistake of playing the game world: I allowed the surviving monsters outside the tomb to flee into the tomb and seek reinforcements. This completely unbalanced the precarious encounter balance of 4th Edition and resulted in a near-TPK (with only two PCs managing to flee the scene in a badly damaged pickup truck).
(4) This is one of the reasons I really dislike the My Precious Encounters(TM) school of adventure design. Balancing every single encounter on a razor's edge can make the game very unforgiving. And Gamma World is even less forgiving due to the lack of any characters fitting into the role of Leader and a complete paucity of healing. There's simply no elasticity in the system for dealing with situations that turn pear-shaped.
(Nor can you simply design encounters using a different methodology, because Gamma World hard-codes My Precious Encounters(TM) into the system.)
FINAL ASSESSMENT: I had a couple of players at my table who had only previously played in my OD&D open table. They preferred the system to OD&D, which is probably a fair assessment. (I noted particularly positive responses to having a skill system, which I hadn't anticipated but which makes perfect sense in retrospect.)
The character creation system was universally beloved. There was a lot of talk about taking the character creation system and grafting it onto some other system: Legends & Labyrinths, OD&D, Apocalypse World. (I might also take a look at something like Mutant Future or Encounter Critical.) This is something that I think is quite likely to happen in the future. I'm also strongly tempted to start goofing around with how to generally cannibalize the whole "randomly determine two origins and then combine them" thing for all kinds of character generation. It's very, very effective and evocative as an improv seed.
But unless my perception radically shifts in wrapping up the "Famine in Far-Go" adventure I'm playing in with another group, D&D Gamma World is going to get shelved.