Let's take a peek at the Black Book Beta character sheet for Legends & Labyrinths: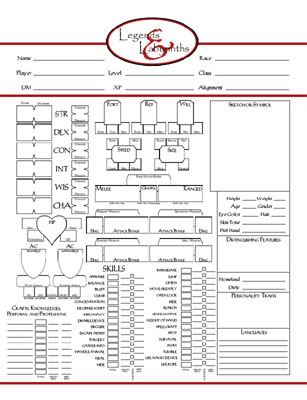 Like the rulebook itself, this is a work in progress. (I'm not particularly happy with the skill section, and there are some other sizing and spacing issues that need to be tweaked and resolved.) But this should give you some idea of what I'm aiming for.
As with many elements in Legends & Labyrinths, one of the key hurdles I had to avoid in developing this character sheet was what I came to call the "illusion of simplicity". For example, I had a long struggle with the illusion of a character creation process so simple that you just "rolled ability scores, picked a class, and then started playing!" It's a seductive vision, but it never actually existed. (And there was a reason it never existed.)
These "illusions of simplicity" served as siren songs. If, as a game designer, you pursue them you'll end up handicapping your game. The idea that your life would be easier if you didn't need to buy shoes bumps against cold, hard reality when you start talking about lopping your feet off with an axe.
In the case of this character sheet, the illusion of simplicity I struggled with was the classic sheet from the BECMI Basic Set that had indoctrinated me into roleplaying 20 years ago. Wouldn't it be great if your character sheet didn't have anything on it except character name, alignment, class, level, ability scores, and saving throws?
But the reality was that the BECMI sheet achieved its simplicity by not including some key forms of utility.
On the other hand, I also didn't want (or need) the spreadsheets-of-doom which so many character sheets have become.
REFERENCE LAYERS
The solution I eventually developed was the concept of "layers". For example, here's the hit point section: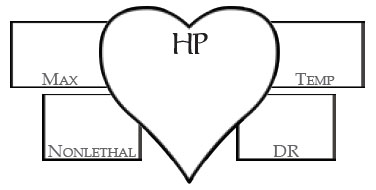 The iconic heart gives you a clear, pictorial reference. Collectively, these distinct graphical shapes keep the sheet from turning into a gray haze. It also gives you a large palette for keeping track of your current hit points.
The top layer contains the "most important" info. Below they you have secondary info that you'll want to have for easy reference, but not on a frequent basis: Your max hit points. Any temporary hit points you're currently benefiting. A place to track nonlethal damage. And a place for noting damage reduction if you've got it.
As a different example, here's the saving throw section:

This is pretty basic: Once again you've got a distinct shape conceptually grouping these stats together. The top layer contains the total saving throw bonus (the key information you need to reference during play), while the layer below that lists the various modifiers that build that top layer stat.
What I like about the sheet is that, when you look at it, the top layer of information "pops out". In play, it feels like you're using a much more streamlined character sheet because of that — but you've also still get access to all that additional information when you need it. (And I think this will be even more true as we tweak the spacing and layout issues.)
MORE THAN JUST STATS
I also feel its important for a character sheet to contain more than just game mechanics. That's why the right hand column is given over to description. This is broken into three types:
First, the "Symbol-or-Sketch". This has vanished from most modern character sheets, or it gets buried somewhere on the second or third page.  But having this space on the front of the character sheet for my old school campaign has evoked all kinds of evocative doodling and drawing. (I think there's something about having that blank space right in front of you during play that encourages players to start filling it up. If nothing else, it's a good space for taking notes.)
Second, concrete requests for information. Height, Weight, Age, Gender, and the like. This establishes a fairly standard scaffold to start hanging your character on.
Third, an invitation to create in bold strokes. The boxes for "Distinguishing Features" and "Personality Traits" are deliberately open-ended. You can put pretty much anything you want in there (or ignore them entirely). But the idea is to lay out a few bold ideas. I find that, particularly for new roleplayers, writing down a few key words like "impetuous" or "always lying" or "loves to grin" is often the best way to jump-start a character.
Those of us who like multi-page biographies and character studies, of course, are still free to tack on as many supplementary pages as we like. But I'm a big fan of taking new players, handing them a character sheet, and letting them pour their imagination onto it. When it works — when those new players invest themselves in the role they've created — you can create a gamer for life overnight.
The streamlined system for character creation in Legends & Labyrinths is the first part of that process: It allows new players to take control of creating their first character (without feeling overwhelmed by endless details for which they have no context). And then, hopefully, this character sheet seals the deal by putting the non-mechanical elements of character creation front-and-center: Inviting them to start thinking of their character as more than just a collection of numbers.