A couple days ago we had a class preview by taking a peek at the fighter. Let's go ahead and preview the races… all of them.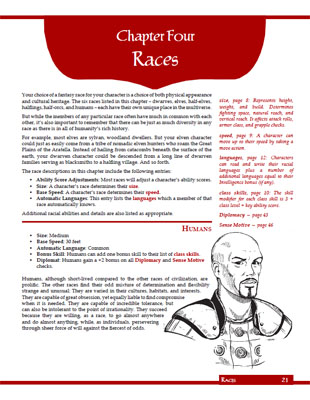 Yup, that's the entirety of Chapter 5 there.
The artwork in this chapter is by Larry Elmore, used under license. His artwork opened the doors of fantasy roleplaying to me, and I can't think of a better way to capture the iconic images of the core races. (With that being said, I made a couple of "risky" choices in here and it'll be interesting to see how people respond to them.)
One semi-interesting thing of note is that, in writing this chapter, I very specifically did not want to give humans primacy by placing them at the top of the chapter. Instead, I wanted them to appear in their proper place in the alphabetical order. But when I got to the actual layout, I ended up with a space at the bottom of the first page that was too small to fit dwarves into. I initially planned to fill it with some generic artwork (with the intention of possibly replacing it with a "fantasy line-up" as a commissioned piece of art). But then, when I tried to place the entry for humans later in the chapter, I either ended up with a page filled with white space or crunching a whole bunch of races up into a space that was too tiny for them.
Eventually, it just made sense to use the humans to fill that white space on the first page and embrace a consistent approach of "1 race per page". It still leaves more white space in this chapter than anywhere else in the book, but sometimes you just have to embrace what fate is telling you.
As I mentioned in the class preview, I decided to go with a Gang of 6 character classes and then matched this with six character races: Humans, Dwarves, Elves, Half-Elves, Halflings, and Half-Orcs.
Here, too, I had seriously considered sticking with either the "classic three" (humans, dwarves, elves) or "classic four" (throwing halflings in there). But getting half-breeds into the mix, in my opinion, establishes an important "conceptual beachhead" in the pastiche fantasy-land at the heart of the game.
So… half-orcs to fill the role of "bruiser" and "outcast" that isn't well-covered by the other races? Or half-elves, like halflings, out of respect for their Tolkienesque roots?
Eventually, I decided that including both would (a) provide some nice variety within the general type and (b) balance the game evenly with six races and six classes.
I am aware that this means only gnomes are excluded among the core D20 races and that, therefore, I run the risk of being classed among the "gnome haters".
But that's a risk I'm just going to have to take.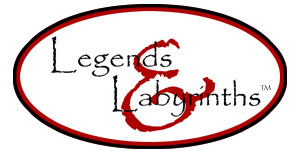 CLIMB INTO YOUR LABYRINTH AND FORGE YOUR LEGEND TODAY!