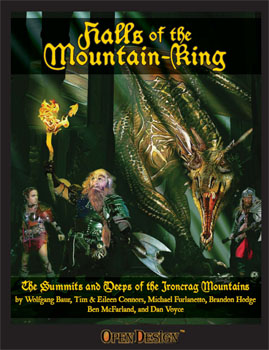 WORST. PLAN. EVAH.
Dwarves: Oh no! All the gold in our mountain has been cursed!
Dwarven God: That sounds sucky. Here's a magical artifact to remove the curse.
Dwarf 1: Think we should use it?
Dwarf 2: Nope. Let's lock all the dwarves afflicted by the curse into the lower vaults.
Dwarf 1: And then use it?
Dwarf 2: Nope. Let's evacuate the mountain.
Dwarf 1: And then we'll use it?
Dwarf 2: Nope. We'll hide the magical artifact in the depths of the mountain.
Dwarf 1: And… then use it?
Dwarf 2: Nope. We'll create clockwork bodies for ourselves and inscribe the secret of how to find the artifact on the gears and cogs.
Dwarf 1: And… wait, what?
Dwarf 2: Then we'll go senile. And centuries from now the grandchildren of our disciples will "con" a small group of adventurers into retrieving and using the magical artifact.
Dwarf 1: What the hell are you talking about?
I guess this is what happens when you write adventure modules by committee. (I really wish I was exaggerating this, but I'm not. Although they technically didn't plan to go senile, this is, in fact, the background used in the module.)
THE SIMPLE FIX
The artifact wasn't ready-to-use out of the box. The Secret Masters of the dwarves collected the tears of the Hundred Widows who had lost their husbands to the corruption of the curse. The fist-sized teardrop of gold they forged from the cursed gold needed to bathe for a hundred years in the widows' tears before it could cleanse the mountain itself.
Unfortunately, long before the teardrop was ready, the dwarves had been forced to abandon the fortress. Or perhaps the Secret Masters arranged for the evacuation, planning to return a century later. Whatever the case may be, things didn't go according to plan: A hundred years passed and, deep in the bowels of the mountain, the Golden Teardrop was completed. But the dwarves were never able to return to the Golden Citadel, and so the teardrop lay forgotten…