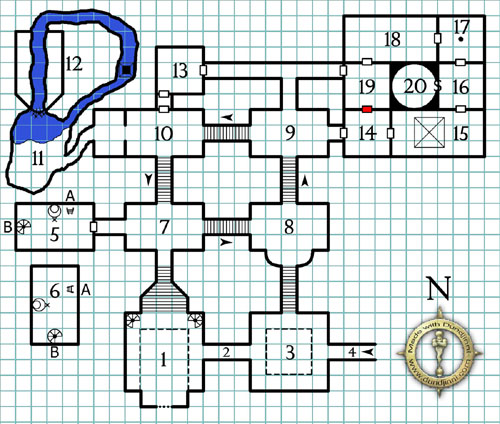 Awhile back, ChattyDM (Philippe-Antonie Menard) announced the One Page Dungeon Contest. For those not familiar with the One Page Dungeon Concept, the idea was originally conceived by David Bowman (Sham's Grog & Blog) and then developed by Chgowiz (Old Guy RPG Blog) and Amityville Mike (Society of Torch, Pole, and Rope). Basically, the One Page Dungeon is a template for designing a complete dungeon in one page.
To a certain extent, the point of the template is to emphasize that you don't need a lot of laborious prep to run a successful adventure: With nothing more than a dungeon map and a couple of pertinent notes, a GM can use his creativity at the game table to take care of everything else. I think a lot of us fall into the trap of thinking that our adventure notes need to be rigorous documents, but the reality is that, when we embrace our own ability to improvise creatively, that level of detail is more than over-kill.
If you're willing to embrace that lighter design ethos, the One Page Dungeon is not only great for its ease of prep. It's also great for ease of running. With a One Page Dungeon you don't have any notes to flip through: You have your rulebook, a single sheet of paper, and your dice. The entire dungeon is literally laid out in front of you. This isn't just simple, it's usable.
Of course, there are a lot of things the One Page Dungeon can't do. And thus, for me, its value is primarily in its use as an exercise: The artificial strictures of the form force you to become more creative while reminding you that simplicity has its value.
So, long story short, there was a contest. And for this contest I was inspired to whip out a One Page Dungeon of my own: The Halls of the Mad Mage.
The design of the Halls was inspired by M.C. Escher: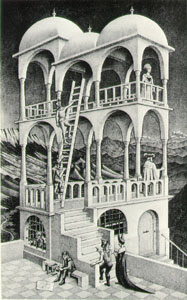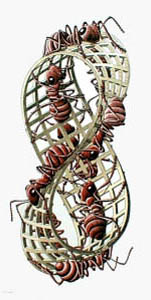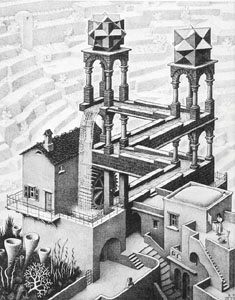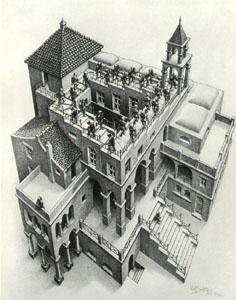 The Halls of the Mad Mage twist back on themselves in impossible spatial contortions. Here you'll find everfalling rivers, endless stairs, and mobius chambers.
So I was quite happy when I received an Honorable Mention in the One Page Dungeon Contest:
Those of you interested in taking a tour of the Halls of the Mad Mage should feel free to download the PDF:
Map made with Dundjinni software, http://www.dundjinni.com