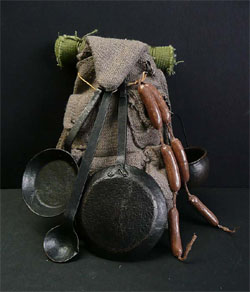 ENCUMBRANCE BY STONE

Encumbrance by Stone for OD&D
OD&D Equipment Sheet
Encumbrance by Stone for Legends & Labyrinths
Legends & Labyrinths / 3rd Edition Equipment Sheet
DESIGN GOALS
Basically, the entire point of the Encumbrance by Stone system is to simplify the encumbrance rules to the point where they can be used to meaningful effect on-the-fly during actual gameplay.
All the way back in 1974, this type of gameplay was discussed. In Volume 3: The Underworld & Wilderness Adventures, for example, we can read:
If the adventurers choose to flee, the monster will continue to pursue in a straight line as long as there is not more than 90 feet between the two. (…) Distance will open or close dependent upon the relative speeds of the two parties, men according to their encumbrance and monsters according to the speed given on the Monster Table in Volume II. In order to move faster characters may elect to discard items such as treasure, weapons, shields, etc. in order to lighten encumbrance.
But in actual practice the encumbrance rules are such a pain in the ass that either (a) they're not used at all or (b) the amount of calculation required to adjust your encumbrance is sufficiently huge that no one is going to try to do it in the middle of a chase scene.
But in the half dozen sessions since I've introduced the encumbrance by stone rules, I've had explicit encumbrance-based play crop up twice. And although "encumbrance-based play" may not sound all that exciting at first glance, being forced to throw away your favorite shield or abandon several weeks worth of rations on the pack horse actually provides a great deal of interest. (Going back to get your shield, for example, can be a unique motivator. Running out of food because you had to leave them behind can throw your plans completely out of whack.)
The real root of my desire to find a workable encumbrance system, however, lies in the open table wilderness explorations my campaign is currently moving towards: Encumbrance can make a big difference in how you supply yourself for a particular expedition and that, in turn, will lead to a lot of interesting strategic decisions down the road. Similarly, being forced to leave potentially valuable treasure behind because you can't carry it will drive interest in revisiting locales.
THINKING ABOUT STONES
Roughly speaking, for the purposes of estimating the stone weight of larger items:
OD&D 1 Stone = 15 lbs.
D&D3 1 Stone = 10 lbs.
But in practice you can just assume anywhere from 10 to 20 pounds. Although eventually set by British law at 14 pounds, the stone historically varied depending on the commodity being traded and the location in which it was being traded. (For example, the 1772 edition of the Encyclopedia Britannica states that a stone of beef was eight pounds in London, twelve pounds in Hertfordshire, and sixteen pounds in Scotland.) This makes it fairly ideal to provide a system which uses crude approximation in an effort to vastly simplify the bookkeeping involved with tracking encumbrance. And the slightly archaic nature of the terminology is immersive for a fantasy world. ("I'm carrying about eight stone.")
In terms of performance, the system will give you a result fairly homogenous with 3rd Edition up to around Strength 25 and then it begins to fall behind the actual tables when performing a straight conversion of stone-to-pounds.
I'm generally okay with that performance for a few reasons: First, most characters won't reach those levels of strength.
Second, the bundling system tends to be friendly towards the characters. Each bundle is supposedly around 10 pounds, but many common bundles will actually weigh more than that. (Other bundles will under-perform, of course, but I suspect the opposite will more often be true.) And if you're carrying 40+ stone, then you have to be carrying 150+ bundles (or a lot of really bulky items).
Third, speaking of 150+ bundles, bulk does become an issue at some point. You may be super-strong, but there are only so many places for you to strap stuff to your body. The exception to that is when you're just lifting a single, heavy object in your hands (which is why I included a separate column for lift).
Fourth, I just don't care that much. If I did care that much, I would just use the full-fledged, count-every-single-pound method of encumbrance.
SPECIAL THANKS

The design of this system is heavily influenced by Delta's D&D Hotspot and Lamentations of the Flame Princess.