This simplified method for handling encumbrance will be used in Legends & Labyrinths, but it can also be easily dropped into any 3rd Edition game. (The rules for encumbrance by armor and the effects of encumbrance can be found in the core rulebooks.) The design is indebted to Delta's D&D Hotspot and Lamentations of the Flame Princess. I'll be posting full design notes in a few days.
Encumbrance, measured in stones carried, determines the load a character is currently carrying. Loads are either light, medium, or heavy and a character with Strength 10 follows an encumbrance rule of 10-5-3:  At 3 stones they are carrying a medium load, at 5 stones they are carrying a heavy load, and their maximum load is 10 stones.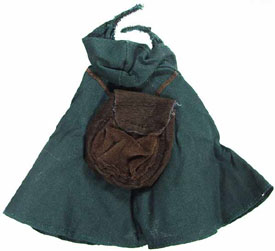 Characters with lower to higher Strength scores adjust this rule by 2-1-½ per point of Strength. Partial stones can be rounded up. The minimum possible rule, regardless of Strength score, is 2-1-½. (For example, a character with Strength 8 would have an encumbrance rule of 6-3-2. A character with Strength 18 would have an encumbrance rule of 26-13-7.) These adjustments are summarized for convenience on the table at the end of this post.
Lifting and Pulling: The character can lift and carry the amount indicated on the table above their head. They can lift twice this amount and stagger around with it (moving only 5 feet per round as a full action and losing their Dexterity bonus to AC). They can generally drag or pull five times this amount along the ground (favorable conditions can double this; bad circumstances can reduce the amount to one-half or less at the DM's discretion).
Tremendous Strength: For scores higher than 29, find the Strength score between 20 and 29 with the same final digit and multiply the listed lift score by 4 for every ten points the creature's strength is above that score. (For example, a creature with Strength 38 would be able to lift 1,200 x 4 = 4,800 lbs.)
Adjusting for Size: The encumbrance rule for a creature is doubled for each size category above Medium and reduced by ½ for each size category below Medium (to a minimum of 1-½-¼). The encumbrance of armor, however, is also adjusted by the same factor (to a minimum of a half stone).
Quadrupeds: Quadrupeds can carry heavier loads, equal to 150% of a biped.
WEIGHT BY STONE
To determine the number of stones carried by a character, simply consult the table below.
| Item | Weight in Stones |
| --- | --- |
| Heavy Armor | 5 stones |
| Medium Armor | 3 stones |
| Light Armor | 1 stone |
| Shield | 1 stone |
| Weapon | 1 stone |
| Weapon, light | Misc. Equipment |
| Ammunition | Misc. Equipment |
| | |
| Miscellaneous Equipment | 1 stone per 5 bundles |
| Stowed Weapons | 1 bundle |
| Heavy Items | 1 or more stones |
| Light Clothing / Worn Items | 0 stones |
| 500 coins or gems | 1 stone |
Miscellaneous Equipment: Up to twenty items of the same type (scrolls, arrows, potions, rope) can be bundled together for the purposes of encumbrance. Items of different types aren't bundled when determining encumbrance.
Stowed Weapons: Stowed weapons have been compactly stored in a way which makes them more difficult to draw (but easier to carry). Stowed weapons must be retrieved before they can be used, but they only count as 1 stone per 5 weapons.
Heavy Items: Anything weighing more than roughly 10 pounds can't be effectively bundled. Estimate a weight in stones (about 10-20 pounds to the stone). When in doubt, call it a stone.
Clothing / Worn Items: Worn items don't count for encumbrance, unless the individual items would qualify as heavy items.
CONTAINERS
Weapons are assumed to be in sheaths, armor is worn, and you might have a wineskin or two strapped to your belt. But since there's a limit to how much you can hold in your hands, everything else you're carrying needs a place to live. As a rule of thumb, containers can carry:
| Container | Capacity |
| --- | --- |
| Belt, Pouch | 1/2 stone |
| Sack, Small | 1 stone |
| Sack, Large | 2 stones |
| Backpack | 3 stones |
| Backpack, Large | 5 stones |
Empty containers count as miscellaneous equipment. Containers being used to carry items don't count towards encumbrance.
Larger sacks (often referred to as "loot sacks") are also possible, but these cannot generally be stored on the body. They must be carried in both hands.
CREATURE WEIGHT BY SIZE
Your own weight does not count against your encumbrance, but these figures are important for mounts. (They'll also come in handy if you need to carry a corpse or prisoner.)
| Creature Size | Weight in Stones |
| --- | --- |
| Diminutve or smaller | Misc. Equipment |
| Tiny | 1 stone |
| Small | 2 stones |
| Medium | 12 stones |
| Large | 100 stones |
| Huge | 800 stones |
| Gargantuan | 6,400 stones |
| Colossal | 50,000 stones |
These figures are meant to serve as a useful rule of thumb, being roughly accurate for creatures similar in build and type to humans (i.e. fleshy humanoids). There will, however, be significant variance within each size category. Even typical animals of Huge size, for example, can easily range anywhere from 400 stones to 3,000 stones. Creatures of unusual material can obviously shatter these assumptions entirely (ranging from light-as-air ether cloud fairies to impossibly dense neutronium golems).
ENCUMBRANCE RULES

| Strength | Light Load | Medium Load | Heavy Load | Lift |
| --- | --- | --- | --- | --- |
| 1 | 1/2 | 1 | 2 | 10 lb. |
| 2 | 1/2 | 1 | 2 | 20 lb. |
| 3 | 1/2 | 1 | 2 | 30 lb. |
| 4 | 1/2 | 1 | 2 | 40 lb. |
| 5 | 1 | 1 | 2 | 50 lb. |
| 6 | 1 | 1 | 2 | 60 lb. |
| 7 | 2 | 2 | 4 | 70 lb. |
| 8 | 2 | 3 | 6 | 80 lb. |
| 9 | 3 | 4 | 8 | 90 lb. |
| 10 | 3 | 5 | 10 | 100 lb. |
| 11 | 4 | 6 | 12 | 115 lb. |
| 12 | 4 | 7 | 14 | 130 lb. |
| 13 | 5 | 8 | 16 | 150 lb. |
| 14 | 5 | 9 | 18 | 175 lb. |
| 15 | 6 | 10 | 20 | 200 lb. |
| 16 | 6 | 11 | 22 | 230 lb. |
| 17 | 7 | 12 | 24 | 260 lb. |
| 18 | 7 | 13 | 26 | 300 lb. |
| 19 | 8 | 14 | 28 | 350 lb. |
| 20 | 8 | 15 | 30 | 400 lb. |
| 21 | 9 | 16 | 32 | 460 lb. |
| 22 | 9 | 17 | 34 | 520 lb. |
| 23 | 10 | 18 | 36 | 600 lb. |
| 24 | 10 | 19 | 38 | 700 lb. |
| 25 | 11 | 20 | 40 | 800 lb. |
| 26 | 11 | 21 | 42 | 920 lb. |
| 27 | 12 | 22 | 44 | 1,040 lb. |
| 28 | 12 | 23 | 46 | 1,200 lb. |
| 29 | 13 | 24 | 48 | 1,400 lb. |