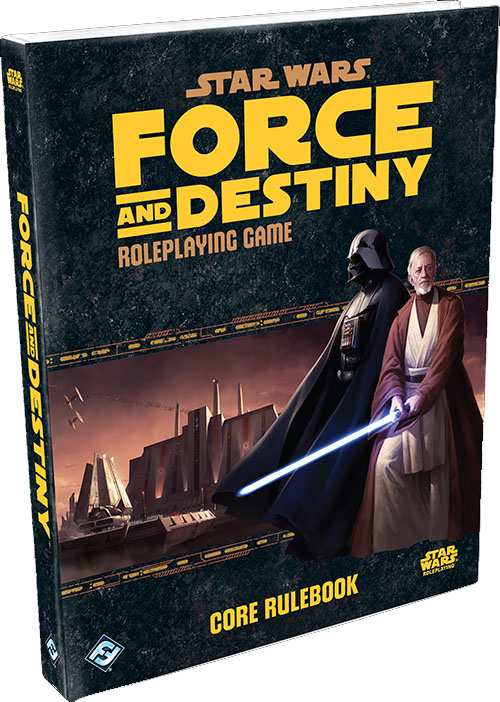 In my review of Star Wars: Force and Destiny, I explained how the game's core mechanic uses three inconsistent pairs of symbols in order to generate a huge mess of meaningless results that even the game's designers can't figure out how to interpret or use consistently.
Now I'm going to show you how you can make it a little better.
THE NEW CORE MECHANIC

Build and roll your dice pools the same way.
(1) The Triumph symbol counts as a Success, but also has the additional effect of either (a) cancelling Despair, (b) cancelling all Threat symbols, or (c) if there are no Threat symbols, counting as two Advantage symbols.
(2) Despair does the exact same thing in reverse: It counts as a Failure, but also has the additional effect of (a) cancelling Triumph, (b) cancelling all Advantage symbols, or (c) if there are no Advantage symbols, counting as two Threat symbols.
(3) Any effect in the game that uniquely requires a Triumph symbol requires 4 Advantage instead. Similarly, anything that uniquely requires a Despair symbol can be triggered with 4 Threat.
(4) With the exception of damage and recovery, the number of Success or Failure symbols you roll is irrelevant. (The only thing that matters is the binary assessment of whether you succeeded or failed.) Everything else in the rules that ask you to count or use Success instead uses Advantage.
(5) The guidelines for Knowledge skills are chucked completely: If you succeed on a Knowledge check, each Advantage gives you an additional piece of information. If you fail, Advantage can give you a lead on where information can be found. Threat either corrupts the information in some way (misleading, missing detail, missing context), gives you straight out misinformation, puts you in immediate danger (such as an angry alien in a bar shouting, "You'll be dead!"), or alerts the bad guys to your search (like stormtroopers noticing that you cut off the alien's arm).
DESIGN NOTES

Essentially, what I'm doing here is lopping off one of the dice result tiers and having Triumph/Despair cancel each other so the symbols are all counted the same way. The system will no longer generate 18 different possibilities (with varying degrees along multiple axes), but the system will still give you:
Succeed
Failure
Succeed-Advantage
Succeed-Threat
Failure-Advantage
Failure-Threat
You get two bits of information: One is a binary success/fail. The other is good/neutral/bad, with varying degrees of good and bad.
In play, I think you'll find that this:
(1) Gives you guidance essentially indistinguishable from the original system;
(2) Results in dice pools being resolved about three times faster (because of simple symbol cancellation and players needing to report less tangled information); and
(3) Quietly eliminates a wide swath of the game's dizzyingly inconsistent mechanics.
PROVISO
This house rule won't magically fix the entire game: Mechanics that flirt with elegance are still going to be mired in a bloated, inconsistent mess. And you're still going to have to lay out $180 to get a complete Star Wars game.
But it helps. It helps a lot. And I think if you're interested in putting a little more elbow grease, then it also gives you a pretty good foundation for cleaning up all the other problems these games have. (Your next stop would be to start stripping all the weird inconsistencies which remain in the game. Working from my system cheat sheet can probably simplify that process.)
Good luck!
FFG STAR WARS – FURTHER READING
Review of Force and Destiny
Force and Destiny: System Cheat Sheet
FFG Star Wars: The Big Fix
Star Wars: Red Peace