It's been seven months since I launched a Patreon for the Alexandrian. Over the past couple months I've slipped on the regular Monday-Wednesday-Friday update schedule I'd been hoping to regularly maintain, but despite that I feel like it's been a really significant success. I've already been able to dwarf the amount of Alexandrian material that I was able to produce in 2014, and we're only a little over halfway through the year. So I'd like to take a moment to thank all of my patrons for helping to make the nifty stuff I've been able to share with all of you over the past half year a reality.
Now that the Patreon has been a reality for several months, I've updated the project page to reflect its success and also provide a clearer explanation of the flexibility that individual patrons can have in supporting the Alexandrian. It's amazing how large an effect people can have when they act collectively. You might feel that something like Node-Based Scenario Design isn't worth more than $0.05 or $0.10 per post to you. And you might feel like that nickel or that dime wouldn't make a difference. But if we can get 20 or 30 people who are all willing to give that dime, then it can make a big difference.
So… what's next for the Patreon? Right now we're at a point where the Patreon is making it possible for me to push away some of the undesirable freelance projects I was previously working on, which means more time for creating material here at the Alexandrian. If we can push the Patreon up to the next level, then we reach the point where I can start investing significant resources into creating material for the Alexandrian.
THE PATREON

My name is Justin Alexander. I'm a writer of things. I make my digital home over at the Alexandrian, which serves as a repository for my thoughts, my writing, my reviews, and my gaming.
Over the years I've written a number of essays about roleplaying games for the Alexandrian which people seem to find nifty. These include stuff like:
As 2014 came to close, however, I realized that due to changes in my professional life the time I had previously committed to creating this kind of niftiness had dwindled away. I had been working on Thinking About Urbancrawls since the beginning of 2013 and I wasn't sure when I'd be able to finish it while I was scrabbling for freelance work to make ends meet.
So I turned to Patreon and, with the help of my wonderfully generous patrons, I've been able spend less time scrabbling and more time bringing the nifty back to the Alexandrian. When I launched the campaign, I said that I'd like to be able to develop material like:
Art of Rulings 2
Factions in the Dungeon
So You Want to Be a Dungeon Master?
As I write this updated pitch in the summer of 2015, several of these projects have already been completed. My patrons have also made possible The Principles of RPG Villainy, original RPG scenarios like The Last Precept of the Seventh Mask, the completion of the Hexcrawl and Film Banging series, and the Alexandrian Remix of Eternal Lies.
It's been pretty amazing!
And hopefully it's just the beginning. With increased patronage, I'll be able to tackle even more ambitious projects in the future!
THE WAY IT WORKS

The goal is for the Alexandrian to update on a schedule of Monday, Wednesday, and Friday. In general, that means you'll be supporting 12-13 posts per month. So if you backed for $0.10 per post, you'd be spending $1.20 or $1.30 per month to support the Alexandrian.
The reason I do a per post contribution instead of a monthly contribution is because the Alexandrian doesn't always update reliably. I don't want to feel guilty if there's a month where I can't produce as much material and I don't want you to feel ripped off.
If you'd prefer to do a monthly contribution, however, Patreon offers the best of both worlds: Set your contribution level to the amount you want to contribute and then set your maximum monthly contribution to the same amount. As long as I post something each month, you'll make the monthly contribution you want (and no more).
What you'll never pay for is all the other content that gets scheduled around the the long-form essays, the in-depth reviews, and the awesome game resources that make up the Monday-Wednesday-Friday content. That includes features like Thoughts of the Day, Check This Out, Shakespeare Sunday, and the RPGNet archive reviews. All of that stuff is just a bonus: You don't have to pay for it, but you'll still get to hear me blather on about Star Trek's Prime Directive or ponder the application of Three Point Plotting to RPG scenario design.
$0.10? $0.25? $1.00?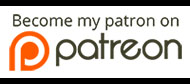 … even the smallest of pledges can add up to wondrous things.