PATRONS OF THE ALEXANDRIAN

In the dusk of 2014, I launched a Patreon that would allow me to focus more of my professional time on creating content for the Alexandrian. I'd like to take a moment to thank all of my patrons and to recognize the nifty things which have been created with their support. If you enjoy the long-form essays, in-depth reviews, and awesome game resources you can find here at the Alexandrian, I hope you'll take a moment to thank these people, too, along with those who have chosen to support the site without granting permission for their names to appear here.

CURIOUS ITEM CLUB

Thorbjørn Steen
Rhett Hudson
Erik Parasiuk
Jonathan Hunt
Jon Evans
Tim Höregott
Rob Alexander
PATRONS

Randy Eckenrode
Jacob Kopczynski
Bay Chang
Jordan Raymond
Dia & Nate Thorn
Pedro Monstah Araujo
Catprog
Danny Stevens
HANGOUT CLUB

Leland Tankersley
Chris Malone
Robert Rendell
THE GAME PLAYERS

…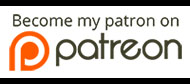 … even the smallest of pledges can add up to wondrous things.