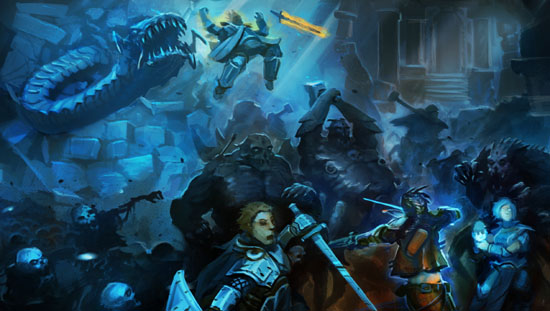 An idea that I've toyed around with for years is creating a hex map for the Underdark. I still haven't done it. But recently I've been running a huge technological complex for Numenera with a hex map that shares a lot of similarities with the Underdark. If the idea of running a hexcrawl through the Underdark is something you'd like to try,  I think there are a few key points to consider:
(1) What makes a hex map work is that it abstracts the actual terrain of the game world. If you're doing a wilderness hexcrawl, you shouldn't try to map every tree… or even every single country lane. If you do that, you're defeating the entire point of the hex map. Similarly, if you're designing your Underdark with a hex map you should not try to map every individual tunnel. (You might map major thoroughfares, the same way that major highways or rivers would be indicated on your wilderness hex map.)
(2) One key distinction between a wilderness hex map and an Underdark hex map is that, generally speaking, travel is always assumed to be possible through the side of a wilderness hex. This is not necessarily the case in the Underdark and one thing you'll want to develop is a key indicating a minimum of three states for each side of the hex:
Open (there are lots of tunnels leading from this hex to that hex)
Closed (there are no tunnels leading from this hex to that hex)
Chokepoint (you can get from this hex to that hex, but only by passing through a specific keyed location)
Note that the existence of a given chokepoint could also be a secret that needs to be discovered (by either obtaining the information elsewhere or perhaps by performing a detailed survey of the area).
(3) The RPG industry has developed a fairly standard "vocabulary" of wilderness terrain types. (These actually predate D&D and were inherited from Avalon Hill's Outdoor Survival when Arneson used it as a template.) These terrain types also have the benefit of being familiar to us in our every day lives: We know what forests are. We know what mountains are. And so forth. IMO, you're going to want to develop a similarly interesting vocabulary of at least 4-5 different Underdark terrain types. And you're going to have to figure out how to clearly communicate those differences to a group that probably doesn't contain spelunkers (and certainly no fantasy spelunkers). The point of this, obviously, is to make the map more interesting: This both rewards exploration (a key component of any hexcrawl), but also to make the actual description of the PCs' journey more engaging.
(4) The Underdark is fundamentally three dimensional in a way that the surface of the world is not. Keep that in mind, but don't worry about it too much: The surface of our planet varies from 1,400 feet below sea level to 29,000 feet above sea level but we still successfully visualize it as a flat plane. Consider the minor elevation shifts I discussed in Jaquaying the Dungeon and apply the same logic at a macro-scale here: You can probably make your Underdark more interesting by saying "you have to go down and then over and then up to get to there", but vast slopes and slants and descents and climbs can be abstracted onto a two-dimensional map. So go back to Point #1 above and remember to embrace the abstraction of the hex!