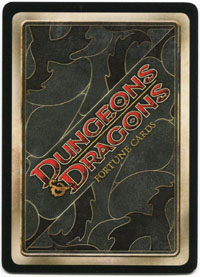 According to my e-mail inbox, this apparently needs to be said:
Yes, the new collectible Fortune Cards for 4th Edition are massively dissociated mechanics. But since this is already 4th Edition we're talking about, I'm not sure that it really matters very much.
Poking around the web to see the full scope of this fuss, I have two additional reactions:
First, the cards are obviously going to create a power creep within the system. The effects on the cards are not even attempting to be balance-neutral, so the net effect of using the cards will be to essentially give everybody free one-shot magic items that can be used every session. I'm surprised to see anybody actually trying to dispute this; it's like trying to dispute that water is wet. The only interesting point to consider here is that they just recently got done rebalancing the monsters because they decided they had been underpowered when they released the game. Did they rebalance with these cards in mind? Will they need to issue another sweeping errata to take the cards into account? Or will they simply live with the imbalance?
Second, it is absolutely true that WotC is trying to create an MtG-style market for D&D. Again, I'm not clear on how this could even be a matter for dispute: They are selling collectible cards.
Does this mean they're trying to turn D&D into MtG? Almost certainly not. They've already got MtG.
But it does appear that WotC is trying to figure out how to make money from selling accessories for D&D. Or, to put it more accurately, how to get enough of their customer base to continue making regular purchases that aren't part of the supplement treadmill that D&D can sustain a viable market without rebooting the rule system every 5 years.
And I think, on the balance, that's a good thing. It's something that WotC almost certainly needs to do: 2008 was a very bad year for them, and I suspect they're trying to figure out how to avoid ever splitting their market like that again.