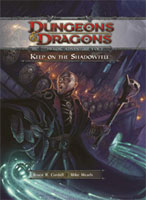 SPOILER WARNING!
The following thoughts contain minor spoilers for Keep on the Shadowfell. If you don't want to be spoiled, don't read it. And if you're in my gaming group then you definitely shouldn't be reading it.
PERRIEN
QUOTE: "Rune-born, eh? I always wished that I'd been born with a rune!"
BACKGROUND: Perrien is the son of Sir Caliban, but he was taken in and raised by Bairwin Wildarson after Sir Caliban died. Perrien doesn't know his true heritage.
Perrien idolizes his adopted father and will often tell tales of Bairwin's adventures (some of them true, some of them not). He has begun training with the Warrior Guild, thinking to either one day join the Winterhaven Regulars or perhaps go on the road like his father did.
APPEARANCE: A young lad with strapping broad shoulders, pitch-black hair, and green eyes.
ROLEPLAYING NOTES: Effusive. Perrien is full of energy and enthusiasm, and he's not afraid to share them with anyone nearby.
SALVANA WRAFTON
QUOTE: "Would you care for a cup of soup with that? Or a loaf of bread? Or perhaps a slice of mutton? There's not nearly enough skin on those bones of yours. You'll be looking like Eilian if you're not careful."
BACKGROUND: Wrafton's owner and proprietess. She employs a serving boy named Thom, who she treats like her own son.
APPEARANCE: Salvana has a round face, rosy cheeks, and a maternal smile. She keeps her hair tied back in a scarf, but wisps of black poke out here and there.
ROLEPLAYING NOTES: Salvana is friendly and open, quick with a smile and a warm welcome. She speaks with a folksy charm. Her hands always moving, either wiping on her apron or patting people on the arm.
VALTHRUN THE SEER
QUOTE: "That's quite an interesting question. I wonder if Rodham's Almanac would have any information on that…"
BACKGROUND: Valthrun is a sage and scholar who lives in the a tower within Winterhaven's walls. Valthrun is knowledgable about the area, though his knowledge doesn't run particularly deep and he knows nothing of the death cult's activities.
APPEARANCE: A man in his late forties, with pale brown hair and large brown eyes. He dresses in robes of red and black and wears a long cream-colored scarf. His fingers are thin and tapered; his hands delicate in both form and movement.
ROLEPLAYING NOTES: Valthrun is a good listener, asking just enough questions to keep whomever he speaks with talking. He peppers his own speech with frequent references to specific tomes – "I'm quite sure I read it in" or "I'm not sure, but let me check" or the like.
SAMPLE BOOK TITLES: Rodham's Almanac, Crowley's Third Compendium, Collected Lore of the Dansuuns, Apocrypha of Tehmal, Yasuul's Unnamed Tome, Othordian's Handbook