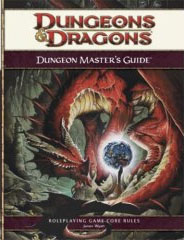 Earlier this month, I included some analysis of skill challenges in my essay on the dissociated mechanics of 4th Edition. Because the core rulebooks had not yet been released, I included a disclaimer in that essay saying, basically: "Hey, I might be wrong about this. There might be more details in the core rulebooks that will clear some of this stuff up."
Well, I've now had a chance to glance through the core rulebooks. I haven't even come close to reading through (let alone thinking about or analyzing) the 4th Edition ruleset, but one of things I did make a point of looking at were the skill challenge mechanics.
And having done so, I can now safely say this: I was wrong. The skill challenge mechanics are not as bad I said they were.
They are much, much worse.
SERIOUSLY, WTF?
So, here's a quote from the 4th Edition Dungeon Master's Guide:
Roll initiative to establish an order of play for the skill challenge. If the skill challenge is part of a combat encounter, work the challenge into the order just as you do the monsters. In a skill challenge encounter, every player character must make skill checks to contribute to the success or failure of the encounter. Characters must make a check on their turn using one of the identified primary skills (usually with a moderate DC) or they must use a different skill, if they can come up with a way to use it to contribute to the challenge (with a hard DC). A secondary skill can be used only once by a single character in any given skill challenge.
That's just one paragraph out of the 8 pages in the DMG dealing with skill challenges, but it boggles the mind to consider how many things are wrong with it.
ROLL FOR INITIATIVE: It's not just the rolling for initiative that's problematical, it's the fact that the characters "must make a check on their turn". In other words, if you're engaged in tense negotiations with the Duke the barbarian can't simply decide to stand back and let the diplomat work — the rules mandate that they get involved. If the rogue is working to defuse a bomb, Joe the Bumbler can't just wait in the next room — the rules mandate that Joe has to start yanking on the wires.
WotC claimed that they wanted to design a set of rules that made it possible for everyone to stay involved with the game during every single encounter. Apparently, however, the only way they could think of for doing that was to mandate that everyone stay involved… whether they want to or not.
BE CREATIVE… AND PAY THE PRICE: If a player comes up with a unique, clever, or unanticipated way of dealing with the skill challenge, make sure to hit them with a hard DC to encourage them to stop being unique and clever.
A little later, in a section entitled "Reward Clever Ideas", the DMG actually says this: "In skill challenges, players will come up with uses for skills that you didn't expect to play a role. Try not to say no. Instead, let them make a roll using the skill but at a hard DC… This encourages players to think about the challenge in more depth…"
Of course, it does no such thing. If the only "reward" for "thinking about the challenge in more depth" is that the challenge will be harder, why would you ever think about the challenge in more depth?
BE CREATIVE… BUT NOT TOO CREATIVE: And just in case we haven't already dissuaded you from trying to think creatively, let's hammer that final nail into the coffin by making sure that you can only use a secondary skill (i.e., a skill not defined in the skill challenge) once in any given skill challenge.
And it's worse than that:
When the PCs are delving through the Underdark in search of the ruined dwarven fortress of Gozar-Duun, they don't necessarily know how the game adjudicates that search. They don't know what earns successes, to put it in game terms, until you tell them. You can't start a skill challenge until the PCs know their role in it, and that means giving them a couple of skills to start with. It might be as simple as saying, "You'll use Athletics checks to scale the cliffs, but be aware that a failed check might dislodge some rocks on those climbing below you." If the PCs are trying to sneak into the wizard's college, tell the players, "Your magical disguises, the Bluff skill, and knowledge of the academic aspects of magic—Arcana, in other words—will be key in this challenge."
"Be creative", they say. But you'll be punished for it with a harder skill check. And you can only be creative once per encounter. We don't want all that creativity to go to your head. After all, the DM has a script for you to follow and he's going to tell you what it is.
In virtually every roleplaying game I've ever played, the default style of play was for the player to tell the GM what they wanted to do and for the GM to figure out how to adjudicate that with the rules.
But the new DMG is telling us that, in 4th Edition, the DM is supposed to tell the players what they're going to do and then, if the players want to deviate from that narrow CRPG-style script, they're going to suffer the consequences and the DM will only let them get away with it so many times.
It's certainly true that, in other games, you could get a bad DM who would railroad the players and force them to do what he wanted them to do by making everything else difficult or impossible. The difference is that, in 4th Edition, making everything else difficult or impossible is what you're supposed to do. Those are the rules of the game.
In terms of the rules it's hocking, the philosophy it's espousing, the advice it's giving, and the style of gaming it encourages, this is some of the worst material I have ever seen in a roleplaying manual. It's literally right up there with World of Synnibar, which prohibited the GM from making house rules and informed the players that, if they caught the GM deviating from the official rulebook, they should chastise the GM and reward themselves double XP for that session.
FURTHER READING
Playtesting 4th Edition: Skill Challenges