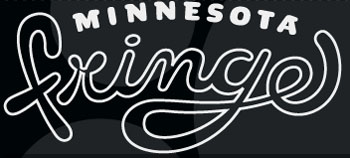 The Minnesota Fringe Festival is wrapping up this week. We'll be resuming more normal operations around these here parts next week, but I wanted to share with you my reviews for the three best shows I've seen at the Festival this year. All of them have performances remaining this weekend, and I heartily encourage you to seek them out if you can.
BALLAD OF THE PALE FISHERMAN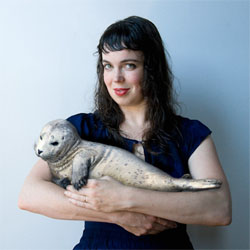 This show was so profoundly moving; so ethereally beautiful; so flawlessly perfect that I grabbed a fistful of postcards as I left the theater and spent the rest of the day enthusiastically handing them out to anyone who would listen to me.
It's that good.
As a theatrical event, Ballad of the Pale Fisherman takes a page from the minimalist staging of Our Town and the lyrical majesty of Dylan Thomas' Under Milkwood. But within that broad form it creates its own uniquely beautiful visual vocabulary and transcendent audio landscape. From the first moments of the show you are subtly and powerfully immersed into the richly detailed and mythic world of the play while the cast simultaneously creates a panoply of characters, each intimately drawn and immensely memorable.
The tale itself is like a soap bubble jewel: So infinitely faceted; so delicate; and so ephemeral. And the telling of the tale is masterfully woven, with sudden, almost imperceptible transitions from tragedy to comedy and back again, with each flip of the switch tying you ever tighter to the characters and drawing you ever deeper into the narrative.
It brought tears to my eyes and hope to my heart.
And in the end I was propelled from my seat into a standing ovation, possessed by the kind of raw theatrical energy and passion that is so rarely achieved, but so utterly transforming when it's experienced.
Shows like this are what make theater worth watching.
SEE YOU NEXT TUESDAY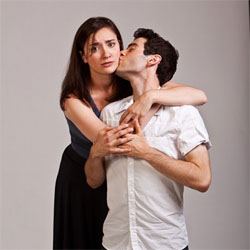 Two hours after seeing See You Next Tuesday, we were still talking about it.
The script is nuanced and complex. It refuses to hold your hand or package up a preconceived message. It defies simplistic analysis.
Which makes it infinitely rewarding.
Each character is a completely realized and fully-rounded human being. It means that you can't just tag them as "The Nice Guy" or "The Bad Girl". And there's no one you can point to and say, "That's the guy I'm supposed to like!" (Particularly since the two main characters are locked in a completely caustic and dysfunctional relationship.)
The ridiculously talented cast latches onto this rich dramatic fodder and turns it into a theatrical feast.
Funny. Provocative. Thoughtful. Clever. Painful. Entertaining. Meaningful. Deep.
Like a fine wine upon the tongue, See You Next Today will linger in your mind.
UNDERNEATH THE LINTEL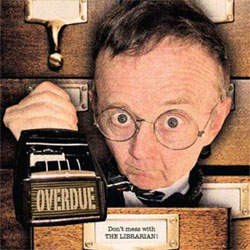 Underneath the Lintel is one of the crown jewels of this year's Fringe Festival.
First you have the script. It starts off endearing, transitions rapidly to clever, turns suddenly enthralling, and then transforms itself into something transcendentally operating simultaneously on multiple levels.
Second you have the actor. Heading in a one-man Fringe show the default assumption is that you're going to see someone portraying themselves (or someone much like themselves). But O'Brien is a gifted and talented actor who transforms seamlessly into the giddy excesses of the Librarian, helping to carry you along on the Librarian's kaleidoscopic journey of discovery.
All of it simply WORKS on a deep, profoundly moving level.