I try to limit the number of non-content posts here at the Alexandrian, but it can be useful to occasionally take stock. And we haven't had one of these updates in nearly a year, so you'll have to bear with me. I've also been getting asked a lot of the same questions lately, and this would be a good opportunity to kind of bring people up to speed.
RATE OF UPDATES: Many of you have noticed the obvious, which is that the rate of updates at the Alexandrian has dropped again over the last six months or so. The primary reason for this is that the Infinity RPG has been chewing up a lot of my creative time. We're hoping that the core rulebook will be getting delivered soon (although, to be honest, we've been hoping that for a long while now). Once that happens, things should loosen up a bit and I'll be able to dedicate a bit more time to the Alexandrian.
(There's also another project — this one still top secret — which I'm hoping I'll be able to make some announcements about shortly. But that's also been pending for awhile now, so… it'll happen when it happens.)
You may recall that, when I launched the Patreon for the site back in December 2014, I mentioned setting up the patron options to be for a paid-per-post format for exactly this reason: The Alexandrian won't always update regularly (although the patrons make it possible to update it a lot more than it would be otherwise), and I don't want anybody paying for content unless that content actually exists.
As a reminder, this really offers the best of both worlds: If you'd really prefer to make a monthly contribution, set your contribution level to the amount you want to contribute and set your maximum contribution to the same amount. As long as I post something each month, you'll make the monthly contribution you want to. (When pledging without a maximum contribution level, however, remember that the ideal update schedule for the Alexandrian is Monday-Wednesday-Friday each week, plus bonus content. So if you backed for $0.10 per post, you'd be spending $1.20 or $1.30 per month to support the Alexandrian.)
GOAL LEVELS: Since my last update, you may have noticed that some of the funding levels for the Patreon goals have changed. There's a couple of reasons for this.
First, because of people setting maximum pledges the amount of money Patreon reports me earning per post is not really accurate. For example, if it says I'm making $50 per post then that's how much I make for the first post each month. Subsequent posts then drop if people have reached their maximum contributions. In practice, by the end of a full month of updates I'm making a little over one-third the amount per post Patreon is claiming. Goal levels were shifted up slightly to reflect the reality of what I'm getting paid (in large part because the higher funding goals were set with the expectation that I'd be able to pay for graphics, maps, and other elements which are part of them.)
Second, Patreon changed the way that they calculate the amount of money paid per post. Or, rather, they've changed the amount they publicly claim is being earned per post. When I first set up the Alexandrian Patreon, they reported the total amount pledged for the first post. They now run that number through some sort of weird, black box algorithm (which they don't share with anybody as far as I can tell) and then spit out a number which is supposedly a more "accurate" reflection of how much I'm actually earning (supposedly based on how many pledges were declined when they attempted to charge credit cards in previous months, but the math on that doesn't actually add up). When this happened, goal levels were then shifted down a bit to reflect the fact that Patreon was now routinely under-reporting how much my patrons were actually pledging.
PATRONS OF THE ALEXANDRIAN: When new patrons sign up to support the Alexandrian they receive a message asking them for specific permission to list them on the Patrons of the Alexandrian page. I would love to recognize everybody who helps to make the awesome content here possible! But some people miss the message and then later e-mail me to ask why they haven't been added to the list. I'm guessing others miss the message and never e-mail me, so this is just a quick reminder for all my patrons: If you want to be recognized as the wonderful people that you are, please send me an e-mail and give me permission to do so!
$0.10? $0.25? $1.00?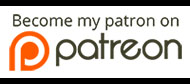 … even the smallest of pledges can add up to wondrous things.