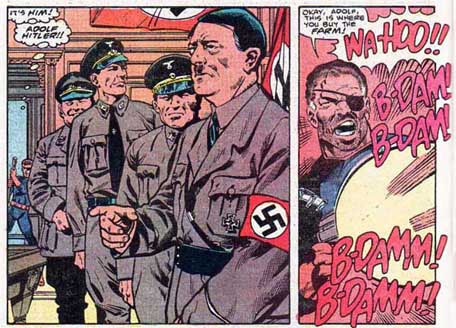 My general approach to handling "canon" when it comes to using fictional settings in an RPG generally follows the "World War II Doctrine": Gaming in an established, fictional setting is no different than playing a game that's set during World War II.
With that being said, there's a broad spectrum of ways in which you can set a game in World War II at the gaming table:
A) The events of World War II as they happened historically can't be changed, but primarily exist as a backdrop. You'll hear about the events of the war, but you'll never actually meet Hitler or change the outcome of the Battle of Midway.
B) You can meet Hitler, but you can't shoot him. If you do shoot him, it will turn out you shot a double and history continues along unperturbed.
C) You can totally shoot Hitler.
There's also the semi-tangential issue of the Alternative History Remix: This is the one where you decide that in your version of World War II, Germany is led by a guy name Hans Strauber and they're fighting the White Alliance of Brittania and Charlegmania. (Or whatever.)
There's also a second, rarer spectrum in which the PCs are actually canonical characters. Let's call it the "Dragonlance Spectrum":
A) You are playing the members of Hitler's cabinet, but you'll create an original character (replacing their historical analogs).
B) You are playing the actual, historical members of Hitler's cabinet, but you're free to take whatever actions you want (even if those contradict the historical reality of what the cabinet did).
C) You are playing the actual, historical members of Hitler's cabinet and you're going to be railroaded into experiencing World War II exactly the way that they did.
(Actually, this one is probably a little less of a clear spectrum. You could theoretically play non-canonical characters who are nonetheless being railroaded through the same events.)