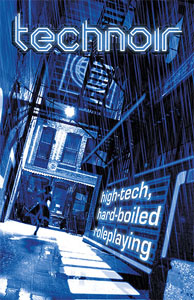 Technoir uses a simple core mechanic in which verbs are used to push adjectives onto characters. (For example, you might use your character's Hack verb to push the adjective "exploited" onto a gunrunner's security system.) That may look a little gimmicky, but it actually seems like a really slick little system.
What I find particularly notable about this is that it mechanically articulates and reinforces a procedure that I use almost constantly when I'm refereeing in virtually any system: When a player proposes an action with an uncertain outcome, the action is mechanically resolved using the rules of the game. Then I consider how that outcome has shifted the status quo and carry that knowledge forward as additional actions are proposed and resolved. I'm intrigued to see how a system that feeds directly into this process will perform in play: Will it piggyback it? Reinforce it? Interfere with it? Enhance it?
I'll probably have more to say about Technoir once I've had a chance to actually play it, but my read-thru of the rulebook actually got me thinking about something completely different that I want to touch on today: Skill challenges in 4th Edition.
Technoir structures its core mechanic into Sequences using a very simple system of turn-taking. The trick to resolving sequences is pretty simple: Because adjectives are meaningful, the GM can use his common sense to know when a sequence ends (because the adjectives that have been applied will either result in the players being successful or unsuccessful in achieving their goal). This works because you can't just slap adjectives on willy-nilly; you need to establish the proper vector by which the adjective can be applied. (In other words, you need to explain what actions you're taking to achieve the objective.)
The result is that adjectives both arise naturally from the game world and also strictly describe the game world. As a result, sequences build organically and logically to unforeseen conclusions.
The system is, as far as I can tell, incredibly flexible and can be applied to almost any conflict (or what Technoir refers to as a "contention"): Hacking, seduction, combat, interrogation, tracking, chases, etc.
In other words, Technoir's sequences have the same mechanical goal as 4th Edition's skill challenges (resolving discrete chunks of action in a structured format). But skill challenges are the polar opposite of Technoir's sequences:
First, whereas Technoir trusts the creativity and common sense of the players at the table to determine when a goal has been achieved (or thwarted), 4th Edition's skill challenges hard-code a success-or-failure condition which is completely dissociated from the game world. Or, as Technoir puts it:
After any turn is taken and an action is performed, everyone at the table should look at what's happening in the fiction. As I said before, there's no score. You have to decide for yourselves when this ends. Each player should respect the adjectives that have been applied and removed and decide what her protagonist wants now — no matter what hse came into the scene wanting. You should do the same for your antagonists. You might find that one side got what they cam for and is done. Or that the two sides are now willing to compromise. Or that there are no good vectors for attacks any more. Look for new ways out of the situation. Maybe it's time to stop rolling dice and cut to a new scene.
But if there is still something to contend over, go on to the next turn and play out the next action.
Technoir cares intimately and enthusiastically about what your characters have done, why they've done it, and what they've accomplished by doing it. 4th Edition's skill challenges, on the other hand, don't give a crap about any of that: If you haven't rolled four successes yet, then your characters haven't succeeded (no matter what they've achieved with those checks). And if you have rolled four successes, then your characters have totally succeeded (even if their actions haven't actually achieved that yet).
Second, Technoir's system inherently gives freedom of choice to the players. They set their goals, determine their actions, and even demand their outcomes. (Of course, those demands may not always be satisfied.) Despite several years of constant errata and house rules attempting to soften 4th Edition skill challenge's away from the rigid railroad presented in the original Dungeon Master's Guide, the system is still inherently antithetical to player choice. For example, here's a key quote from the presentation of skill challenges in D&D Essentials Rules Compendium:
Each skill challenge has skills associated with it that adventurers can use during the challenge. (…) Whatever skills the DM chooses for a skill challenge, he or she designates them as primary or secondary. A typical skill challenge has a number of associated skills equal to the number of adventurers plus two.
Incredibly, skills that players want to use that the DM hasn't pre-approved can never be considered primary skills and are automatically considered inferior (they can count for no more than one success and may not count for successes at all). By default, 4th Edition tells you that ideas originating from the players are not to be treated with the same respect as ideas originating from the DM. It's hard-coded right into the rules.
The two approaches really are night and day: Technoir trusts the creativity of the players. 4th Edition shackles the creativity of the players.