In large part, Legends & Labyrinths replaces the complicated variety of the 3rd Edition's combat maneuvers and special attacks with a streamlined stunt system. But how much tactical interest are we sacrificing with those combat maneuvers? And is the stunt system just replacing one form of complexity for another?
SIMPLE STUNTS
The process of resolving a stunt is simple:
Define the effect of the stunt (which determines the DC).
Perform the stunt by making the appropriate action check.
If successful, the target of the stunt may attempt a stunt save to negate its effect.
What makes the stunt system simple is specifically that the DCs are hard-coded. It turns it into a substantive part of the combat system instead of the "beg the GM for a nice DC" negotiation that many stunt systems boil down to.
What makes the stunt system work is a divided workload: On the one hand, we use an action check to determine whether or not the character successfully leverages whatever skill/ability they're using to perform the stunt. (This encourages — but doesn't mandate — characters to perform stunts within their areas of expertise.) On the other hand, we allow the target to make a saving throw to negate the effect. (This prevents high-level characters from being just as easy to pratfall as a low-level character.) By dividing this workload, we avoid the problem similar systems have had in which the DC calculation become difficult-to-balance calculus: Add up all your stunt factors, then divide by the performer's HD before multiplying by the target's HD, then modify according to difficulty factors before blah blah blah…
STUNT VERSATILITY
But does the result offer the same tactical versatility as the detailed special attacks offered by 3rd Edition?
Well, let's talk about that.
(Note that the base DC for all stunts is DC 5.)
Aid Another: The stunt DC is +5 per +1 bonus. (A +2 bonus requires a DC 15 check instead of DC 10, but the mechanic is open-ended. The simplicity of +5 per +1 playtested much better than work-arounds which attempted to maintain the DC 10 = +2.)
Bull Rush: Forced movement +1 DC per 1 ft. So if you wanted to push someone 10 ft. over a cliff, it's a DC 20 stunt check.
Charge: We left basic charges in the game as an optional rule. (Surprise rounds are hamstrung without them.) But there are quite a few ways to use movement to apply a bonus to your attack roll using the stunt system.
Disarm: Forcing an opponent to drop an item is a DC 15 stunt.
Feint: There's not specifically a way to deny your opponent his Dex bonus to AC, but you can use a Bluff stunt to apply a penalty to his AC.
Grapple: L&L includes a simplified grapple system. Instead of being a complete departure from the rest of the combat rules, L&L's grapple rules just modify them using a single, simple mechanic that's easy to remember. In play it's surprisingly not that different from the advanced grapple rules of 3E, but you won't have to keep flipping the book open every time somebody tries to grab a monster.
Overrun: This one, I'll admit, is missing functionality. We briefly playtested including "helpless" in the stunt system, but it was badly busted. The closest you'll get is just using a forced movement stunt to shove them out of the way as you continue moving.
Trip: Prone is a +10 DC stunt.
So, from a tactical standpoint, we've found that the stunt system effectively replaces most of the existing combat maneuvers.
"Okay," you say. "That's all well and good. But all you've done is duplicate functionality the game already has using a slightly different system. Big deal."
But, of course, the stunt system can do much more than that. And you can actually do any of these actions using any action check (assuming you can explain how the action check will provide the desired result). For example, you can trip people by making a melee attack roll… but you could also shoot them in the leg (ranged attack roll) or aim a cone of cold spell to create a sheet of ice under their feet (Spellcraft check) or throw them down (grapple check) or force them to leap aside by threatening to run them down (Ride check) or yank their feet out from under them with a lasso (Use Rope check) or anything else you'd care to imagine.
So we basically hoover up all the existing functionality of the 3rd Edition maneuvers into a simple superstructure that's both (a) simpler than the functionality it's replacing and (b) capable of adding much more functionality to the game.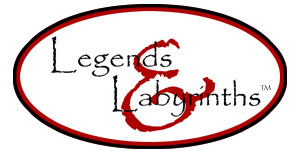 CLIMB INTO YOUR LABYRINTH AND FORGE YOUR LEGEND TODAY!