Recently my open table megadungeon campaign has been expanded into an open table hexcrawl campaign. One of the interesting consequences is that players can become intensely focused on the idea of being "scooped" by other groups: There have been discussions about need to "get back here quick" before someone else can swoop in; there have been a few feelings of friendly acrimony about groups "getting lucky" on the backs of another group clearing out the "tough stuff"; and at some point there is going to be a group that goes delving into a complex that has recently been emptied by someone else.
The adventure I'm about to share is not one of those. But it was designed with that final concern in mind: Knowing that cleared out dungeon complexes were going to crop up eventually, I decided it wouldn't hurt to key a few in ahead of time. I knew that I was going to be keeping a "restock checklist" as part of my campaign status document for the hexcrawl, and I figured pre-seeding it with a few entries would actually be for the best.
Which brings us to hex K13: The Ruined Temple of Illhan.
I've mentioned previously that I drew on the work of Dyson Logos considerably when it came to stocking the hexes for this campaign. The Temple of Illhan was one of those maps, and you can find Dyson's original maps on his site (along with a lot of other wonderful stuff). In this case, Dyson had posted the map, but not the key. So it was very easy to simply plug in the map; write, "Nothing down here. Currently completely cleaned out." And then move on to the next hex.
A few days ago, one of my groups stumbled onto the temple while looking for something else entirely. They decided to check it out, quickly concluded that it was not the place they were looking for, and then decided to continue exploring it any way. I found the resulting session (and the need to make an empty complex as entertaining as possible) intensely interesting and it seems like most of the players agreed.
(One of the players, unfortunately, was less than happy with exploring an entire complex that had nothing he could stick a sword in. It clashed hard with his expectation that "if there's a dungeon, there will be monsters". But based on the brief discussion I had after the session with him, it seems like the session helped reinforce the idea that, in a sandbox, you don't have to stick around. Because there are a lot of options to pursue, you don't have to engage with the options that don't entertain you. That's the great thing about them: As a DM I'm there to facilitate your entertainment, but I'm not responsible for it. It takes a lot of pressure out of the prep work.)
What I'll be presenting over the next few days is the full key for the dungeon as it was developed in play. We'll start today with the portion of the temple which remains above ground.
Special thanks to Dyson Logos for giving me permission to reproduce his maps and the adventure key as part of this series. (It should be noted, however, that the map of the above ground temple below is not Dyson's work. His stuff is much, much cooler.)
I'll also note that Dyson has has posted some session logs of his group playing through the original version of the temple. My version of the temple isn't based on those logs at all, but it might be interesting to do a side-by-side comparison of the same map being used in two different ways.
THE RUINED TEMPLE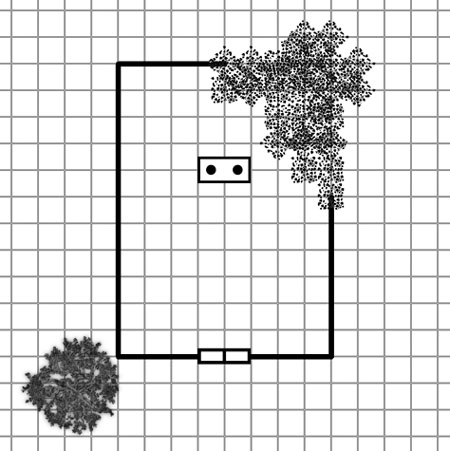 (Map drawn in Dundjinni.)
DOORS: Front doors hang loosely from their hinges. They appear to have been smashed open. The splintered wood is gray and desiccated, however, indicating the damage is well-weathered with age.
TREE: A stunted, twisted growth.
COLLAPSE: Tumbles out across the prairie. Grass is growing up amidst the rubble pile. The pile can be easily climbed over to enter or exit the church.
INTERIOR: Filled with rubble. It appears that the upper floors of the building collapsed at some point. This rubble has been scooped out to the right and the left beyond the door, however, forming a path leading to a stone block in the far end of the building (the altar).
ALTAR: A kind of stone block. On the side of which is a bas relief depicting crossed hammers.
SECRET STAIRS: The stone block has actually been pushed forwards towards the door, partially revealing stairs going down. (Originally it would have cleared the stairs entirely, but it has ground to a halt and is now jammed halfway open, forcing human-sized characters to squeeze through.)