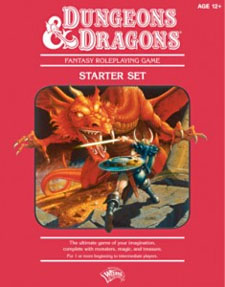 I don't have much interest in 4th Edition (see D&D is Dead, Long Live 4th Edition), but when I heard about the new D&D Starter Set I was hopeful that WotC was finally doing something that's about 20 years overdue.
I've talked here before about the lack of a Gateway Product for D&D (and, by extension, the lack of a gateway product for the entire roleplaying industry). To sum up: From 1974 to 1991, D&D was available in a single boxed set (just like other games) with a relatively inexpensive price point. In 1991, however, the Basic Set became a pay-to-preview product. (The distinction being that pre-1991 you might buy the Expert Set, but you would continue playing with your Basic Set. After 1991, when you bought the Rules Cyclopedia or the AD&D core rulebooks you took your Basic Set, stuck it in the closet, and never looked at it again: You were paying for an ephemeral piece of advertising that was designed to sell you the "real game".)
Thus, starting in 1991, the real entry point for the game became a hardcover book. And when the Rules Cyclopedia went out of print, the cost of buying the game skyrocketed to $100+. D&D was now a game that (a) didn't look like other games, (b) was extraordinarily expensive compared to other games, and (c) also required an immense investment in terms of time before you could even start playing (going from less than 100 pages including a solo adventure to 800+ pages spread across three hardbacks).
Basic Sets and Basic Games continued to be produced, but all of them were pay-to-preview products: Instead of descending from the tradition of Gygax/Arneson, Holmes, Moldvay, and Mentzer, these were created in the same fashion as the AD&D First Quest boxed set: In other words, these are products which tanked when they were first created and have continued to tank for two decades.
STARTER SET SALVATION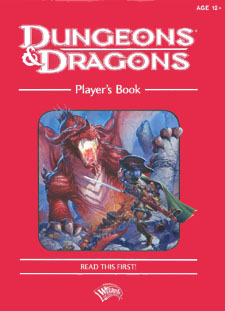 So when I heard they were releasing a new red box Starter Set and specifically evoking the 1983 Mentzer set as part of a product line that was specifically designed to provide a stable set of introductory products and a clear pathway for new players into the game I thought, "Hey, maybe they've finally figured it out."
Did they?
Nope. The Starter Set is still a pay-to-preview product. You can't even get to page 3 of the Dungeon Master's Book before the game is trying to sell you the full version of the game you apparently should have been buying in the first place. And once you buy those additional books, the Starter Set is specifically designed to be stuck in the closet and never looked at again. Suckers.
This is a product which new players joining experienced groups will be told to skip; which smart consumers will identify as as a pay-to-preview false start; and which less aware consumers will buy, discover is an incomplete pay-to-preview version of the game, and either (a) stop buying D&D products or (b) feel vaguely ripped off when they go to buy the book they should have bought in the first place.
WHAT DO I BUY TO PLAY D&D?
The other stated goal of the D&D Essentials line is to eliminate the market confusion surrounding D&D. Imagine that you heard about a game called "Dungeons & Dragons" and you walked into a store tomorrow looking to buy a copy. In this scenario, there are arguably two problems with the PHB/DMG/MM triumvirate:
(1) They're too expensive. $105 is an insanely high cost of entry.
(2) It's entirely unclear that those are the three books, out of the vast number of D&D books available, that you're supposed to buy.
So does Essentials solve these problems?
Of course not.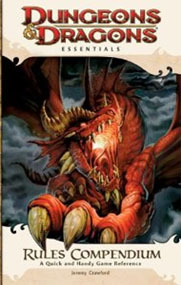 COST: Because the Starter Set is a pay-to-preview product, it's a fake entry point to the game (suffering the exact same problem that the multiple versions of the 3rd Edition Basic Game did). If you're entering the game through the Essentials line, the products you're looking for are D&D Rules Compendium, at least one of the Heroes books, the Dungeon Master's Kit, and the Monster Vault. Total cost of entry? $110. ($130 if you count both Heroes books. $150 if you bought the Starter Set.)
CONFUSION: The supposed ideal was that when someone asked, "What do I buy to play D&D?" The answer could be, "The Essentials." But that doesn't actually pan out because there are 9 different Essentials products (not including the dice set). You're still facing a wall of confusing product and trying to figure out which three esoterically named products you're supposed to be looking for (and that's before we add in the extra confusion caused by the Starter Set fake-out).
Or maybe you're supposed to buy all of them? At a whopping $210? That's way too expensive, no thanks.
And this, of course, assumes that the consumer has gotten your note about the Essentials being the products they should be looking at. If they haven't, they're now faced with all of the Essentials products plus all of the non-Essentials products while trying to (a) realize that there are three different entry points into the exact same game and (b) which products, exactly, belong to which entry point.
COMPATIBILITY: But is D&D Essentials really the "exact same game"? It's a debateable point. One can certainly say that D&D Essentials is just including (a) the errata and (b) alternate-but-completely compatible class builds.
But if I'm playing a fighter from Heroes of the Fallen Lands and my DM is using the Player's Handbook, then we have two different versions of the fighter. That's every bit as confusing as a player using a 3.5 ranger while the DM is using the 3.0 Player's Handbook. Plus, the 4th Edition errata goes deep. This is a game which completely revised one of its core mechanics within mere weeks of being released, and more recently changed the basic foundation on which monsters are built. And the important point here is that not everyone uses the errata. Someone using a 4th Edition PHB without errata and someone using the new Rules Compendium are playing two versions of the game every bit as different as 3.0 and 3.5.
Now, I'm generally of the school of thought that 3.0 and 3.5 were more inter-compatible than most people gave them credit for. But I've certainly seen plenty of hiccups at tables where 3.0 and 3.5 PHBs were being used interchangeably. These sorts of problems will also crop up at tables attempting to use "vanilla 4th" and "Essentials 4th" at the same time.
MY POINT
I've talked before about WotC's habit of saying, "Our goal is to do X. And in order to do X, we're going to do not-X."
So when Bill Slavicsek says, "[Essentials] forms the foundation of the the game moving forward and are designed to be the perfect way for new people to get into the game — thanks to the format, the price, and the approach to class builds." Perhaps I should be unsurprised when we end up with is a format which is confusing to new players at a price point more expensive than any previous entry point for the game.
The Essentials line may or may not be a success for WotC. It certainly seems to be successful in getting some people (including myself) to take a second look at 4th Edition. (Unfortunately, the game I find waiting for me has the same basic problem that it's still 4th Edition. And 4th Edition is still a game fundamentally designed to take most of the things I enjoy about roleplaying games out of D&D.)
But what I can guarantee you is that it will fail in its wider goal of reaching out to new customers in a new way. The Starter Set remains the same pay-to-preview product that has failed over and over and over again for the past 20 years. And the rest of the Essentials line is more expensive and more confusing to new customers than the existing options.
It's a triple package of fail.
Which is not, of course, to say that no new players will enter the hobby through the Essentials products. First Quest may have been a failed product compared to OD&D or the '77 thru '91 Basic Sets, but people still bought it. And plenty of people have entered D&D through the PHB/DMG/MM triumvirate even if they are expensive and confusing for new players.
But we're still waiting for WotC to offer a true gateway product for the RPG industry. And I anticipate that both D&D and the RPG industry as a whole will continue to suffer for it.