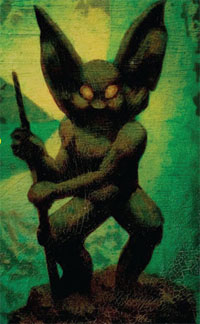 Cyclopeatron wrote an interesting post t'other day regarding the fact that blog posts which are the equivalent of op-ed commentary tend to attract more comments than blog posts containing creative content.
To a large extent this makes sense: Commentary posts inherently serve as the opening salvo in a potential conversation, inviting responses which either disagree with that commentary or extrapolate upon it. Creative content, on the other hand, doesn't have an easy response: If you liked it, there's not much to be said beyond "nice" (and that seems pointless enough you'll probably skip it). If you didn't like it, you'll probably feel no particular compulsion to be a jerk by saying "you suck". (A critique might be useful, but if it wasn't invited you're probably wasting your time and likely coming across as a jerk again.)
But the point Cyclopeatron makes is that this has a real effect on what bloggers write: The only real payment we get is the social validation from seeing people talk about what we wrote. When commentary posts see so much more activity than creative posts, we're being strongly encouraged to write commentary posts instead of creative posts.
Despite this predilection, I agree with Cyclopeatron that the RPG blogosphere is a happier and healthier place when it's filled up with awesome creative ideas. Towards that end, I propose Alexander's Rule:
If you use something awesome from a blog in your game, go back and tell the creator about it.
That might mean taking fifteen seconds to write a comment. ("Hey. I ran the Dungeon Crawl of Ultimate Doom last night and it killed three PCs. Nice work.") It might mean writing up a full session report, posting it to your own blog, and sending the original creator a trackback or link. Or anything inbetween.
Lemme take a second to practice what I'm preaching. Let me just stick a little spoiler protection for my players (who should read no further here)…
MY PLAYERS SHOULD STOP READING

Over the past couple of weeks I've been keying a hexcrawl. This was supposed to take a couple of days, but due to some poor decision-making on my part I quickly discovered I had bitten off more than I could chew. (Pro Tip: 16 hexes x 16 hexes = 256 hexes. 256 hexes = A lot of bloody hexes.)
When my creativity ran dry, I turned to the random tables of OD&D, AD&D, and Judges Guild to spur it. And when those random tables had been reduced to beating a dead horse, three particular resources helped me reach the finish line: First, the maps and adventures of Dyson Logos. Second, similarly great stuff from A Rust Monster Ate My Sword. And, finally, the collected annals of the One Page Dungeon Contest.
I've got a lengthy tale from the table scheduled to be posted in a couple of days that will delve into one of the scenarios I used from Dyson Logos in more detail, but for the sake of this post let me share some details on what happened when I used the Crypt of Luan Phien a couple of hours ago.
CRYPT OF LUAN PHIEN
This one-page dungeon features multiple sections which rotate independently, constantly re-arranging themselves into baffling new configurations. Take a second to look at the original map, and now take a peek at the maps my players drew this evening: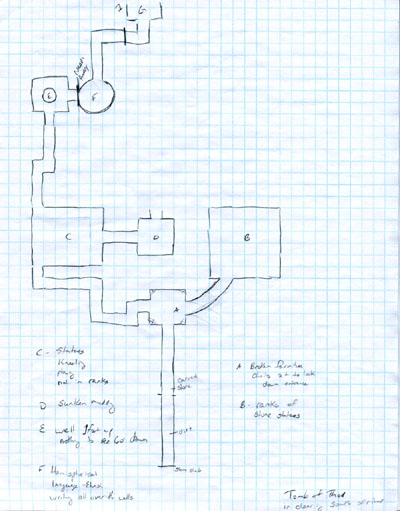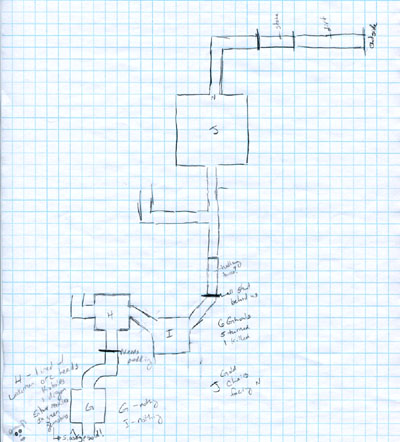 You can click on the images to view them at a larger size.
To help you orient yourself, the letters on my player's map are essentially the sequence in which they explored the tomb. The letters correspond to the numbered key of the original adventure as follows: A = 1, B = 2, C = 8, D = the trap counter-clockwise from 13, E = 7, F = 12, G = the midpoint of the tunnel through the center section, H = 13, I = empty room clockwise from 13, J = 6.
A few notes from my implementation of the module:
I placed the crypt into a cairn hill (of which there are many scattered throughout this particular region).
I used the random wilderness encounter tables from OD&D to determine the exact guardians of this cairn, which turned out to be 12 ghouls. I placed these in area 3 ("–and monsters!") and split them into two squads. One of the squads remained with the treasure, the other exited this section of the crypt once the hallways started rotating (and, thus, gave them a path of egress).
The design of the crypt lended itself well to this: When the hallways moved, the ghouls would move into the section. (I kept track of their location by placing little mini-d6's on the map so that the ghouls could just spin around as I turned the paper. The d6's, tangentially, were table favors from my brother's wedding.)
The first several times the corridors rotated, the timing coincidentally worked out so that a PC named Marrow happened to be touching the stone wall of a dead end each time. For quite a while they were convinced that the crypt was cursed so that the touch of an elf would have no effect (since the elf in the party would touch the wall and nothing would happen), with theories alternating between "it's a trap for elves" and "elves are meant to be here".
The ghouls eventually encountered the party because they rotated right to them: The corridor had started rotating while the PCs were split across sections, and the party member taking up the rear only barely managed to jump through. With his heart beating fast, he turned to the others to mention that they might want to tighten up their formation… and thus missed the half dozen ghouls who rotated into view a couple seconds later.
I also randomly generated the treasure. Much of this remains in area 3, but one piece of jewelry (a silver necklace with finely-wrought elven runes and studded with green alexandrites worth 5,000 gp) was placed upon a mumified dragon's head in the trophy room (area 13).
The trophy room was dominated by the heads of orcs which had been mounted on the wall. There was also a curious wicker man in the corner. This opened to reveal a construction similar to an iron maiden, with thick, piercing thorns pointing inward.
Within the wicker man there was a strange figure which seemed sculpted from twigs. The players hypothesized that it was a demonstration ("this is what you put in here … and then it will hurt … a lot").
It's actually a full-grown (albeit dead) twig blight from The Sunless Citadel. Although influenced by the norska cairn traditions of the region, I've decided that this particular tomb is actually elvish and ties into the doomed dragon cult which was once based out of the Citadel. (At some point my players may notice the complete absence of any elves in this region of the world.)