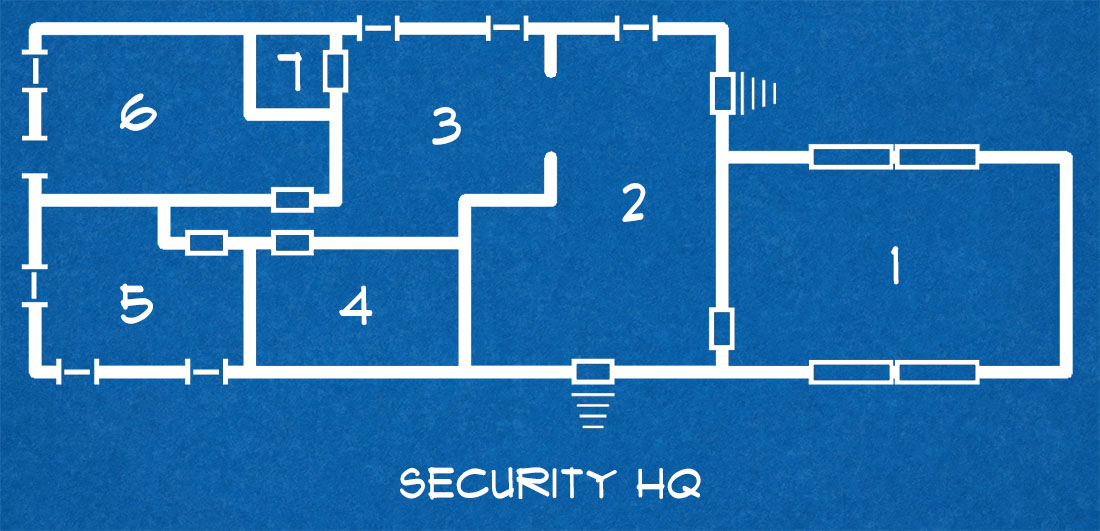 (120 meters wide)
EXTERIOR
The bulk of Security HQ is on 10-foot high stabilizing stilts, with the exception of the garage (area 1).
Mostly made out of white plasteel. The windows are silvered from the outside (but anyone inside can look out).
Bundles of cable run from the Security HQ to the Research Spike and around the perimeter of the crater to the Research Hab. These contain hardwired camera and communication feeds.
AREA 1 – GARAGE
VEHICLES:
Flying Car (Security Model) – Sunward, pg. 170
Martian Trike (x2) – Sunward, pg. 170
Hyperdense Exoskeleton – Eclipse Phase, pg. 344
Maintenance berths for two flying serpents (see pg. 6).
AREA 2 – ENTRY

FABBERS (x2)
WEAPONS RACK
Sniper Rifle (x2) (AP -12, DV 2d10+5 – SA – 12 reactive armor-piercing ammo – safety system, smartlink)

Also has bug ammo (EP, pg. 337)
Smartlink (EP, pg. 342): +10 attack test, microcamera, shoot around corner, control which ammo is being shot.

Automatic Rail Rifle (x12) (AP -9, DV 2d10+8 – SA, BF, FA – 30 ammo – safety system, smartlink)
Medium Rail Pistol (x12) (AP -5, DV 2d10+4 – SA, BF, FA – 12 ammo – safety system, smartlink)
Shock Batons (x12) (DV 1d10+3+shock)
Heavy Body Armor (x12) (armor 20/18, ablative patches, full helmet, shock proof)

Ablative Patches (EP, pg. 313): +4/+2 armor, reduce by 1 per hit
Shock Proof (EP, pg. 313): +10 bonus when resisting shock attacks
AREA 3 – LOUNGE

Chairs, tables, food fabbers
AREA 4 – SECURE ROOM

FEEDS: This room contains the hardwired security feeds from the Research Hab and Research Spike. It also processes the wireless feeds from the Security Perimeter.
DISPLAYS: By default, the security feeds are only available via the "silver snakes" which biometrically-validated users can attach to their skin. The feeds are then delivered as AR entoptics via a skinlink.
SECURITY AI: The security AI for the complex is housed in a server in this room. It has the ability to wirelessly broadcast the security feeds, but will generally try not to do that for security reasons.
Performs a security handshake with the Research AI once per hour.
AREA 5 – BARRACKS

Bunks for six.
DREAMLOGGER: One of the pillows is Dominic's Dreamlogger, designed to record a person's dreams while they sleep.
ACCESSING: Requires bypassing a firewall; Infosec test (-20). The data is essentially an XP recording and must be either experienced or processed into a visual feed (which would require additional tests).
CONTENTS: Roughly six days after coming onsite, Dominic begins experiencing increasingly disturbing dreams (see Basilisk Dreams, pg. 4).
AREA 6 – BARRACKS

Bunks for six.
AREA 7 – BATHROOM

With a feed line to the fabbers in area 3.