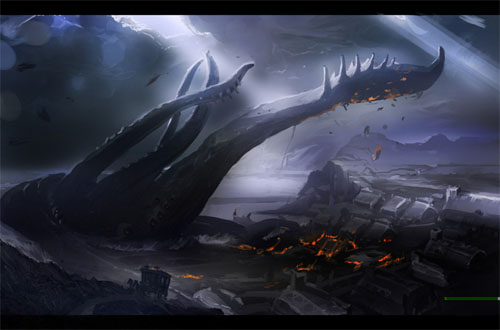 Many moons ago I presented a series of essays on Game Structures in roleplaying games: Learning them, prepping for them, using them, creating them, and so forth. What's about to follow may make a bit more sense if you click through that link first.
One of the things that was originally supposed to be part of that essay series was a discussion of urbancrawls: A structure that would have completed the triumvirate of dungeoncrawl-hexcrawl-urbancrawl and given an essentially "complete" structure for running exploration-based fantasy campaign worlds.
When I started the Game Structures series I thought I was really close to cracking the urbancrawl nut. But as I wrote the series, it became clear that I was not as close as I thought I was. I eventually excised the discussion of urbancrawls from the series, but was fairly confident I would be able to solve the problems and present it independently in the very near future.
Six months have passed since then. (And another year and a half since I wrote the previous sentence.) And I still don't think I've solved it.
WHAT I'M NOT LOOKING FOR

First, let me clarify something: I am not trying to figure out how to run urban adventures. With the recent uptick in people being interested in dungeoncrawls and hexcrawls, I've seen a fair amount of people using the term "urbancrawl" to just mean "a D&D adventure that happens to be set in a city". But that's not what I'm talking about.
If that was what I was talking about, we wouldn't be having this discussion. My current 3.5 campaign – set entirely within the city of Ptolus – has been running for 100+ sessions. I know how to run effective adventures and entire campaigns that are set in a city. Node-based scenario design is a flexible tool and I'm not afraid to use it.
WHAT I AM LOOKING FOR

What I'm looking for right now, though, is an urbancrawl. A scenario structure that would use the same fundamental principles that dungeoncrawls and hexcrawls use.
Let's take a moment to review the characteristics of a 'crawl (based on our analysis of the dungeoncrawl and hexcrawl):
It uses a map with keyed locations. (This provides a straight-forward prep structure.)
Characters transition between keyed locations through simple, geographic movement. (This provides a default action and makes it easy to prep robust scenarios.)
There's an exploration-based default goal. (This motivates player engagement with the material and also synchronizes with the geographic-based navigation through the scenario.)
Characters can engage, disengage, and re-engage with the scenario. (You can go into a dungeon, fight stuff for awhile, leave, and when you come back the dungeon will still be there.)
This fourth property appears to exist because:
(A) Material within the 'crawl structure is firewalled. (In general, area 20 of a dungeon isn't dependent on area 5.)
(B) The default goal is holographic. (You can explore some of the wilderness or get some of the treasure and still feel like you've accomplished something.)
(C) The default goal is non-specific. (You can get a bunch of treasure from Dungeon A then get more treasure from Dungeon B and still be accomplishing your goal of Getting Lots of Treasure.)
(D) The default goal isn't interdependent. (You can clear the first half of a dungeon and somebody else can clear the second half. By contrast, you can't solve the second half of a mystery unless you've got the clues from the first half.)
The dungeoncrawl structure provides these features for location-based adventures. The hexcrawl structure provides these features for wilderness-based adventures. A fully functional urbancrawl structure would theoretically provide these features for city-based adventures.
WHY I'M LOOKING FOR IT

If I can already use node-based structures to run urban-based scenarios, why am I interested in figuring out this "urbancrawl" thing?
My current open table campaign started with dungeoncrawling. It later expanded to include a surrounding hexcrawl. In both cases, however, I had vestigial cities hanging out as "home bases" for the PCs: They were safe havens and places where they could resupply, but active adventuring wasn't taking place there.
And it wasn't taking place despite the fact that I had specifically prepped them the way I normally prep cities: With interesting NPCs and scenario hooks hanging all over the place. In non-open campaigns all of those hooks would get developed using node-based structures as the players explored them. But node-based structures are generally interdependent, specific, and non-holographic: When every week sees a different group of PCs sitting at my table, the node-based structures don't work. They fall apart.
But if I could develop an urbancrawl scenario structure that works the same way the other 'crawl structures work, then I would be able to prep effective material and the players would know how to engage it.
Beyond the open table, I'm also just generally fascinated to see how an exploration-based urban environment would develop in play. I also suspect it would give rise to a lot of interesting, faction-based play and also open up alternative realm management possibilities. (But those are just gut instincts, obviously, since the structure doesn't actually exist yet.)
SO WHAT ARE WE DOING HERE?

I think I'm narrowing in on an urbancrawl structure, but it's not quite gelling for me. So I'm hoping to present my own thoughts on the topic, open up a dialogue, get some feedback, and maybe crack this thing once and for all.