Tagline: Best German Game of 1995. Best U.S. Board Game of 1996.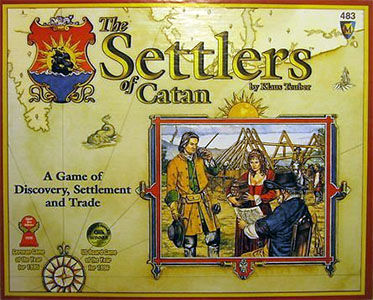 Good board games are hard to find.
This is a truism which comes about because, the plain and simple truth is, board games are expensive to produce and hard to distribute. As a result, it is extremely difficult to introduce truly experiment in a meaningful way with board game mechanics (because it's expensive to do so), and this inevitably leads to stagnation. (Cheapass Games, as I (and many others) have said before, has escaped these limitations by pioneering an entirely different marketing strategy. But Cheapass Games is special.)
To make matters worse, where a roleplaying game can be considered successful if you use it for one or two campaigns, for a board game to be successful (at least in my opinion) it needs to have lasting replay value. Or, to put it another way, even though Citizen Kane is a better movie than Die Hard, I don't regret watching Die Hard. On the other hand, why would I play a substandard board game with my friends when I could be playing a better board game? To put it a third way: There's a narrower potential for variety within any niche of the board game market than there is within the roleplaying markets or movies.
So, like I said, good board games are hard to find.
Which is why it's always a joy to find a game like The Settlers of Catan. Sure, the cynic can claim that we've seen everything here before (hex-based maps from every wargame you've ever seen; combinations of resource cards are basically a mechanic from Risk; maintaining diplomatic relations from Diplomacy; variable board set-up from Chess variants; and trading resources from many variants of Monopoly), but the true aficionado will recognize a whole which is greater than the parts.
LEARNING THE GAME

The first thing to like about this game – and something so cool it deserves its own little section in this review (although largely because I've been a proponent of this type of lay-out for roleplaying games for a long time now) – are the dual manuals which come with it.
The first manual, Game Rules, is used – in combination with a large, full-color Game Overview sheet – to learn the games. It reads like a fairly standard game manual – taking you step-by-step through the game, with examples of play, repetition of concepts, etc.
But the game you learn is only a beginner's version of the rules – most noticeably, the variable board rules (see below) are excluded in favor of a "standard board". After playing your first game, you can proceed to the Settler's Almanac to spice things up.
What makes this so cool, though, is that the Almanac is a reference for all the rules in the game. In the Almanac, however the rules are grouped by topicality, and are presented in a very technical format.
What does this mean in practical terms? Well, I've always disliked the fact that – with most games – you have to go wading through a manual designed to teach you the rules in order to reference the rules. The rules themselves are often spread out and buried behind the explanatory text. No such problem here. Because the Almanac is nothing except rules, reference is easy. And because the system starts simple and then lets you add in the more complex elements, its very easy to learn. The Game Overview sheet also contains a handy turn sequence reference, and every player gets a Building Costs card which summarizes the resource cost of building (see below).
Make no mistake about it, The Settlers of Catan is a moderately complex game (some would argue that it is a very complex game, but then some have never played Advanced Squad Leader). But the system they've implemented for new players to learn makes it seem as simple as Monopoly.
THE RULES

So what is this game all about?
The game is played by three or four players. Each player represents a group of colonists who have come to the largish island of Catan. By building settlements and roads you control various resources on the map, and by possessing resources you can build settlements, cities, roads, or development cards (see below).
GOAL: The goal of the game is to collect 10 victory points – which you do by building settlements (each worth one point) and upgrading those settlements to cities (making them worth two points). You can also achieve victory points through certain combinations of development cards, or by achieving certain meta-goals (such as the "Longest Road", which gives you two victory points).
BOARD SET-UP: This is probably the most commented upon feature of the game: The board for The Settlers of Catan is variable, meaning you set it up differently each time you play. (Imagine, if you will, that Park Place and Boardwalk were in different places every time you played Monopoly.)
Basically the board comes in the form of seven types of hexagons: Mountains, Hills, Forests, Pastures, Fields, Harbors, Ocean, and Desert. Using a specific set of guidelines you randomly place these hexagons out onto the table, ending up with the island (composed of the five types of land the single desert card) in the middle, encircled by the ocean and harbor hexes. In addition, there are chits which bear little numbers on them – following a specific pattern these are placed one to each land hex (except the desert).
Finally, each player places two cities and two roads onto the board (there is a specific mechanism to figure out who gets to place their cities first and so forth). Cities are placed on the intersections between hexes (and thus always border three hexes) and must be at least two intersections away from any other city. Roads run along the edges of the hexes, and must be connected to one of the player's cities. (Each road piece is one hex is long.)
GAME PLAY: Play proceeds in turns. First, you roll two six-sided dice. Compare the number you roll to the numbered chits on each hex – any hex which contains a chit which matches the number you rolled produces resources on that turn, based on the type of hex it is. (Mountains produce Ore, Hills produce Brick, Pastures produce Wool, Fields produce Grain, and Forests produce Wood.) Any settlement (yours or other players) which borders one of these hexes collects a resource card.
TRADE AND NEGOTIATION: There are two types of trade in the game: You can trade with other players (only the player whose turn it is can engage in trading); or you can trade overseas. Trade with other players is based entirely on negotiation and is, in my mind, the core of the game's effectiveness and replay value – because it adds the complexity of human interaction into the outcome.
Trade overseas is mechanical. Anyone can trade four resources cards of one type for a resource card of any other type. However, if you control a harbor (by having a settlement on the intersection with a harbor hex) you will get better trade ratios – sometimes on all resources, sometimes on only one type of resource. (It depends on the harbor.)
BUILDING: Finally, resource cards are spent in specific combinations to build new settlements and roads, updating settlements to cities, or purchasing development cards. Development cards can do a variety of things (from giving you additional victory points to garnering you resource cards).
THE ROBBER: Finally, there is the "Robber" – who wanders around the board stealing resources from one player and giving them to another. There's a specific set of mechanics governing the use of the Robber, but I won't go into them here.
SOME NOTES ON EDITIONS, AWARDS, AND EXPANSIONS

The Settlers of Catan was originally released in Germany in 1995, where it promptly won the Spiel des Jahres. When it was released by Mayfair in the United States in 1996 it followed up its performance by winning the Origins Award for Board Game of the Year. With the third edition (the one you'll buy if you buy Mayfair's version), the rules were internationally standardized (they had not been before).
There are also a number of expansions for Catan — notably an expansion allowing play for five or six players (instead of three or four). The most major supplement to be released in the States to date is Seafarers of Catan, which develops the overseas elements of the game to a larger extent (there is also a 5/6-player expansion for Seafarers). For some reason the 5/6-player expansions are not compatible with the German edition (and the German expansions are not compatible with the United States edition). I don't know why (although, obviously the artwork on the cards wouldn't match).
Later this year we'll also be seeing Settlers of Catan: Cities and Knights which will expand the city rules and add warfare to the game.
In addition to all this there is a Settlers of Catan card game (non-collectible), which can be played by two players. Personally, I am very excited by the forthcoming United States release of Spacefarers of Catan, which is a stand-alone game involving colonizing space in a variable universe.
CONCLUSION
This is an elegantly designed game, and deserves every bit of praise it has earned over the past few years. The Diplomacy-like elements of the trade and negotiation which are at the heart of the game make the game a joy to play with friends and strangers alike. But Klaus Teuber has not failed to back this up with some strong strategic and tactical considerations. For example, the resources you need at various stages in the game shift gradually over time – thus you need to carefully plan how you're going to get the resources you need to expand now, but also what resources you're going to need to finish the game. (On more than one occasion a rising juggernaut which seemed incapable of being defeated ground to a halt because the player failed to get the proper access to the right resources to finish the game.)
Basically I've got only two, small complaints to level against Settlers of Catan: First, the price is a little steep. It's well worth it, but it made the game a tough buy to get into. The prices on the expansion packs, though, really leave me wondering in some cases. (Particularly the $35 sticker on Seafarers of Catan, when the blurb says that "certain scenarios" will require the purchase of two of them!)
Second, and perhaps more importantly, there have been a significant fraction of sessions with this game where the random factor played – in my opinion – too large a roll (no pun intended). Although dice rolling is built into the system, it seems to me that the emphasis of the game is on strategy, tactics, and negotiation. But a handful of lucky rolls can really alter the whole course of the game. This was not a major problem, but it was a troubling one.
Style: 5
Substance: 4
Author: Klaus Teuber
Company/Publisher: Mayfair Games
Cost: $35.00
Page Count: n/a
ISBN: 1-56905-091-0
Originally Posted: 2000/04/06
This is a fascinating review to read in hindsight. First, because it's kind of weird looking back at a time when Settlers of Catan was not completely secure in its position as a juggernaut of the board game industry.
Second, because my opinion of Settlers of Catan has soured considerably. (And it soured fairly quickly after this review was written. I don't think I've played the game in at least a decade.) My primary problem with the game is that it masquerades as an extremely strategic game, but the outcome of any given game is heavily dependent on luck while featuring a very limited palette of experiences. It tends to attract the worst kind of casual player: The ones who think they're Grandmasters of Chess because they have a basic grasp of probability.
One point I now firmly disagree with my former self about: Games featuring a division of their rulebooks into a beginner's tutorial and an alphabetized rules reference generally suck. The entire methodology appears to be designed to achieve no other end than to guarantee that you'll end up playing the game incorrectly while burying rules under arbitrarily arranged titles.
(This complaint does not necessarily apply to all games featuring introductory rulebooks. For example, Space Alert features an incredibly clever tutorial system that iteratively introduces new players to the complexities of the game. The key difference, however, is that Space Alert also features a complete rulebook which is organized procedurally for easy and intuitive reference.)
For an explanation of where these reviews came from and why you can no longer find them at RPGNet, click here.