Well, in this case, mostly untested.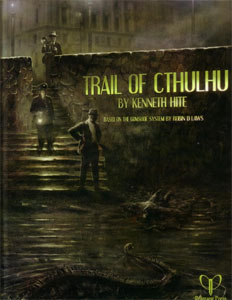 Here's a mechanic I improvised while running Trail of Cthulhu last night:
Mitigation Test:When making a mitigation test, instead of setting a difficulty number the Keeper sets a "worst case quantity". The Investigator then resolves the test normally (spending points, adding them to their roll, and so forth), but the result of the test is subtracted from the worst case quantity to determine the actual outcome. (In some situations, you might choose to use multiples of the test of the result.)
Example: One of the investigators has been bitten by a Mythos creature and the creature's poison is turning their flesh to stone. The team's doctor decides the only way to save their life is to cut away the "infection". The Keeper calls for a mitigation test using Medicine to determine how much damage the doctor deals to the victim/patient and sets the "worst case quantity" to 12 points of damage. The doctor's player spends two points, rolls a 4, and manages to perform the procedure while only inflicting 6 points of Health damage (12 – 4 – 2 = 6).
Example: An orphanage is beginning to collapse. An Investigator is trying to rescue as many kids as possible before the building comes down completely. The Keeper calls for an Athletics mitigation test to determine how many kids survive and sets the "worst case quantity" to 6 dead kids. The player asks if he can spend Architecture points to assist (by judging which sections of the building are in most jeopardy) and the Keeper agrees. He spends 3 points and rolls a 2… He's just not able to find Timmy before it's too late.
Example: The player is trying to carve a forged copy of a stone tablet, but is under something of a time crunch to get it done. The Keeper sets a "worst case quantity" of 48 hours and calls for a Craft test. The Investigator gets a result of 6, which the Keeper multiplies by 5: It'll take 48 – 30 = 18 hours to complete the duplicate tablet.
Thanks to Colleen Riley, Phil Henry, Tess Keen, and Sarah Holmberg for being my guinea pigs.