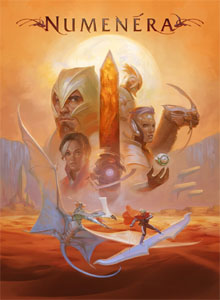 GRAPPLE: You can attempt to physically wrestle and restrain an opponent by attempting a Might task. Once a grapple has been successfully initiated, all physical actions are treated as opportunity actions requiring a Might task to attempt. A character can attempt to break out of a grapple by succeeding on a Might task as an action (without needing to make the opportunity check). Characters in a grapple defend at +1 difficulty.
(So if you've been grappled and wanted to throw a dagger at someone, you would need to first succeed at a Might task in order to gain the opportunity to throw the dagger. If you're grappling someone who wants to punch you in the face, you would get an opportunity action to attempt a Might task to prevent them even trying to punch you.)
If multiple characters are grappling a single opponent, you can use the standard rules for helping. (The bonuses from helping would also affect the Might task for the opportunity action.)
FOCUSED GUARDING: If you're attempting to stop a specific character from attempting a specific action ("I tackle him before he can run out the door!"), you can attempt a Speed task at -2 difficulty. On a success, the character you're targeting will be prevented from taking the indicated action.
DESIGN NOTES
There are no rules for grappling presented in the Numenera rulebook. The closest you'll get is a special ability possessed by a monster called a chirog, which looks like this:
Chirogs do not use weapons or tools, usually attacking with a savage bite. However, they can also grapple a foe, which is just like a normal attack except that rather than inflicting damage, it holds the foe immobile. The foe can take only purely mental actions or struggle to get free (a Might task at difficulty 4). Both the grappling chirog and the grappled foe are easier targets for other combatants, with attackers gaining a two-step modification in their favor.
At first glance, this looks like a decent place to start if you're looking to make a ruling for grappling in Numenera. Unfortunately, upon reflection it turns to be fairly unbalanced as a generic mechanic. For example, the chirog's ability is even better than stunning an opponent: Stunning means that you can't take an action next turn and you defend at +1 difficulty. Chirog-style grappling means that you can't take an action next turn, you defend at +2 difficulty, and are at risk of having the effect continue unless you succeed on a Might task. There is a trade-off insofar as the person initiating the grapple also suffers a +2 difficulty to defense, but since stunning also requires a much greater expenditure of resources than the single action required by chirog-style grappling it's pretty clear that chirog-style grappling would be broken as a generic mechanic.
So I instead took chirog-style grappling as a loose guideline and improvised on a similar theme. When I was done I discovered that I had inadvertently created something pretty reminiscent of my Super Simple Grappling rules for D&D.
The rules for focused guarding are a bit more experimental. My basic thought process there is that, by the rules as written, a character can perform a Guard action which allows them to specify an action and prevent anyone from attempting it by making a Speed roll at -1 difficulty. Ergo, I'm concluding that stopping only a specific character from preventing that action should be easier. (So you can stop that one specific guy from running through the door, but all of his friends will still be free to do so.)
It may be too powerful, though. I'm specifically eyeballing the scenario where the PCs are fighting a solo monster. I've suddenly made it flat-out easier to counter that monster's actions. So something to keep an eye on.