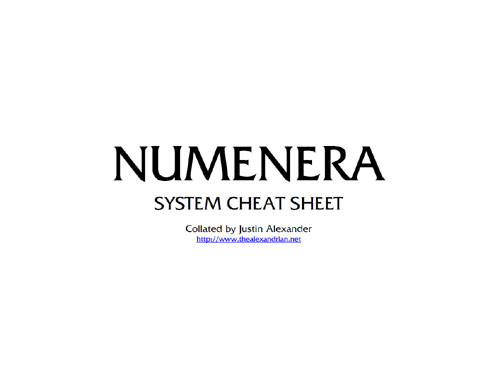 The final version of this sheet has been released! Grab it from over here!
I kickstarted Numenera because I'm fairly certain that Monte Cook's RPG products have been directly responsible for more hours of high-quality gaming at my table over the past decade and a half than any author. (Or possibly all other authors combined.) But my interest in it was mild: I had a lot of other games I wanted to run and play. I had a lot of other books I needed to read.
But GenCon turned my mild interest in Numenera into a real passion: I saw the book for the first time and it was gorgeous. Then I got lucky and was able to use generic tickets to get into the tiny tournament. In the tournament I got even luckier and my table was both filled with fantastic players and GMed by the talented Shanna Germain (who is also a supporting author for the book). The combination of gorgeous books and amazing gaming experience got me to drop another $120 on the special edition of the game (despite the fact that I had the $60 version of the book that I had kickstarted in the mail). When I got home, I ordered the XP Deck and Cypher Cards. (The former might seem like a gimmick, but it's so goddamn slick in actual play that they were basically destined to get my money once I saw it in action.)
Long story short, I'm planning to be running Numenera sooner rather than later. And that meant that I needed to prep one of my system cheat sheets for it. Like the other cheat sheets, these are designed to summarize all the rules for the game — from basic action resolution to advanced combat options. I've found that it's a great way to get a grip on a new system and, of course, it's also a valuable resource at the game table for both the GM and the players. (For more information on the methods I use for prepping these sheets, click here.)
IT'S ALSO A GM SCREEN!
If you're familiar with my other cheat sheets, you may notice that the Numenera sheets are formatted for landscape printing instead of portrait printing. This is because I've designed these sheets to be inserted into a modular, four-panel, landscape-oriented GM screen. (Just like the one backers of the Numenera kickstarter were able to buy as an add-on. And which you can buy here.) I'm not including graphics for the front of the screen, but if you buy the Numenera GM Screen PDF you'll be totally golden.
WHAT'S NOT INCLUDED
These cheat sheets are not designed to be a quick start packet: They're designed to be a comprehensive reference for someone who has read the rulebook and will probably prove woefully inadequate if you try to learn the game from them. (On the other hand, they can definitely assist experienced players who are teaching the game to new players.)
The cheat sheets also don't include what I refer to as "character option chunks" (for reasons discussed here). So you won't find types, descriptors, or focuses here.
You also won't find most of the optional rules for the game. I may add those later, but not yet. (The exception are the rules for modifying abilities; I suspect they're going to be too useful not to have handy.)
HOW I USE THEM
I generally keep a copy of my system cheat sheets behind my GM screen for quick reference and I also place a half dozen copies in the center of the table for the players to grab as needed. The information included is meant to be as comprehensive as possible; although rulebooks are also available, my goal is to minimize the amount of time people spend referencing the rulebook: Finding something in 4 pages of cheat sheet is a much faster process than paging through a 400 page rulebook. And, once you've found it, processing the streamlined information on the cheat sheet will (hopefully) also be quicker.
THIS IS A FIRST DRAFT. And the sheets have not yet seen the heat of playtest. It's likely that I've forgotten to include something vital, so please let me know if you find yourself constantly wanting a piece of information that the sheets aren't giving you.
The organization of information onto each page of the cheat sheet should, hopefully, be fairly intuitive. The actual sequencing of pages is mostly arbitrary.
Page 1: For Numenera, the difficulty terrible is the heart of everything. Once you understand that, the special rolls, GM intrusion, and the concept of advantage/disadvantage 90% of the rest of the system actually becomes irrelevant. This page is likely to become irrelevant quickly. You'll note that I included both types of GM intrusion and examples of GM intrusion: This is unusual for my cheat sheets, but so much of Numenera is designed to empower strong, flexible rulings by the GM that providing this kind of idea fodder feels right to me.
Page 2: The core of the combat mechanics. If you're teaching new players the game, you really only need to walk them through these first two pages.
Page 3: The rest of the game's mechanics all fit snugly onto one page. The one thing I wish I'd been able to include here are the optional rules for trading damage to achieve specific special effects.
Page 4: This page is necessary to provide a truly comprehensive cheat sheet of the rules as found in the core rulebook, but I'll admit I'm somewhat baffled by the combat modifiers. The core of the system boils down to: "If something helps you, apply advantage. If it hinders you, apply disadvantage." In the rulebook, these modifiers are not presented in the form of a table, but instead chew up pages and pages of material which all boils down basically to, "This thing helps you, so it applies advantage." repeated over and over again with slight variations.
PLAY NUMENERA
That's pretty much all there is to it. Y'all should grab a copy of Numenera and start playing ASAP. It has the official "I Had a Ton of Fun Playing That" seal of approval.