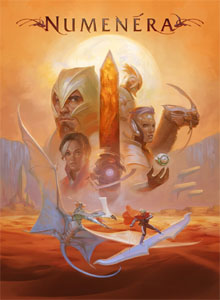 The design ethos of Numenera is focused on providing the GM with a strong mechanical structure for making rulings while keeping those mechanics minimal so that the GM is free to make those rulings. That, all by itself, pretty much lands the system right in the middle of my sweet spot. But what really elevates the game to the next level – the thing that really makes it shine – is the GM intrusion mechanic.
Which is why it's unfortunate that I've seen so many GMs struggling to grok the mechanic.
I understand where they're coming from: I was skeptical about intrusions, too, until I saw them in actual play. They're an unusual tool and it may break some of the expectations you have as a result of how RPGs typically work, but based on my experience it will be well worth your time to embrace them.
BREAKING THE RULES
For those not already familiar with Numenera, here's a brief overview of how the mechanic works: The GM announces that they are making an intrusion and hands the player whose PC is the primary target of that intrusion 2 XP. That player can either spend 1 XP they already have to cancel the intrusion (returning the 2 XP to the GM) or they can accept the intrusion, take 1 XP for themselves, and give 1 XP to another player.
The core functionality of the GM intrusion is that it allows you to make things worse than the mechanics of the game would normally suggest. An easy example is having a PC drop their weapon: If you're playing a game that doesn't have an explicit fumble mechanic for that, it would be really unusual for a GM to announce that this happens on a failed attack roll. It would be even more unusual for a GM to decide that it happens on a successful attack.
But that's what the GM intrusion allows you to do: You thought it would be cool for the PC to hit the mammoth-saur with his axe so hard that the axe got stuck in the creature's thick hide and wrenched out of his hands. In any other game, this would usually cause the players to disconnect from the game world and be wrenched into the metagame because the GM is "breaking the rules". But the GM intrusion mechanic not only lubricates this interaction (allowing the player to stay focused on the game world), it also includes a feedback mechanic by which the player can say "no, you've gone too far, I reject the intrusion".
A DIGRESSION ON DISSOCIATION
Some of you may now be pointing your finger in horror and crying out, "Dissociated mechanic!" And, yes, that's true. The mechanics of XP spending in Numenera is very similar to the use of fate/luck points in other systems and they're tied directly into the intrusion mechanic.
But as I've mentioned many times in the past (and, most notably, in the Brief Primer on Dissociated Mechanics), it's not the end of the world for an RPG to include some dissociated mechanics as long as those mechanics are providing a valuable function.
In the case of GM intrusions, the function of liberating the GM to take huge creative risks while being "protected" by a safety net which allows the players to seamlessly rein them in if they go too far is absurdly valuable.
It should also be noted, for those who are particularly allergic to dissociated mechanics, that GM intrusions are incredibly flexible tools which are used entirely at the GM's discretion: You can use them all the time, you can use them rarely, or you can use them never. More importantly, the nature of each intrusion is entirely up to you. That means you can make them as associated or dissociated as you want: It's very trivial, for example, to only use intrusions which a PC could avoid or negate through the actions they take.
USING THE INTRUSION
This ties into something that's really important to understand about GM intrusions:
The primary purpose of an intrusion is NOT to punish the players.
Intrusions are actually doing the exact opposite of that. In fact, if you've ever had the experience of having a really cool idea (like a character's axe getting stuck in their opponent) and then rejecting it because it's kind of a bullshit move and it feels unnecessarily punitive to your players… well, GM intrusion greases the wheel for it.
But intrusions aren't just a method of injecting awesome into your campaign. Of equal importance is their other primary function:
Use GM intrusions to handle outright shortcomings in the rules.
Rather than provide laborious technical detail, Numenera trusts the GM to make specific rulings from generic guidelines. But it also realizes that useful abstractions can frequently give rise to illogical situations when applied to the details of specific situations: GM intrusions provide a useful omnitool for restoring logic.
An example given in the rulebook is a PC who decides to turn his back on an armed opponent in order to raise a ladder into position: According to a strict interpretation of the rules, there's no reason that the PC can't do that (he has initiative and so he takes and completes his action before the NPC). The GM, however, recognizes that this doesn't make sense in the specific context of the action being proposed, so he uses a GM intrusion to give the NPC a free attack on the PC.
Couldn't the game have included a full suite of mechanics for "attacks of opportunity" or something like that? Sure. But what do you do about the next corner case? And the next one after that? Just keep adding more rules? Pretty soon you end up with a rulebook that looks like Shadowrun 5th Edition. There's nothing wrong with that, per se, but Numenera is giving you a different way of dealing with the problem.
NARRATIVE CONTROL
Because GM intrusions are such a flexible tool, they can also be used as a narrative control mechanic. What's interesting about their use in this context is that the GM is still the ultimate arbiter of when the intrusions will be used, which means that the GM can run a very traditional game while opening up specific arenas within the game world for negotiation.
An example frequently used in the Numenera rulebook is the appearance of unexpected reinforcements: The GM uses an intrusion and two more chirogs drop out of the leafy canopy above you!
Let's break down the options here:
The GM could decide NOT to have any reinforcements up.
The GM could decide that the two chirogs are DEFINITELY there and the players have no say about it.
The GM could decide that the two chirogs MIGHT be there and use a GM intrusion to negotiate their arrival with the players.
A purely traditional RPG only offers the first two options (and those options still exist in Numenera); but the intrusion mechanic offers the third.
And this third option – the narrative control option – can really be pushed even further than the rulebook takes it: Any element of the game world that you're willing to open up to negotiation with your players can be slickly handled through the simple interface of the intrusion. Is their best friend secretly betraying them? Has the king been replaced by a technological doppelganger? Are the rat things actually friendly and misunderstood (instead of vile and evil)?
As these examples also demonstrate, it's not necessary to think of an intrusion as a singular point in time, either: They can have wide-ranging and irrevocable implications for the future. Or, alternatively, seamlessly retcon the past with terrible revelations.
INTRUSIONS AS UBER-FUMBLES
Perhaps the most common use of the GM intrusion at my table is the "uber-fumble": Wow, it sucks that you failed that check. Here, lemme make it a little bit worse for you.

Notable examples from my last few sessions include:
You try to dodge out of the way of the club, but you duck the wrong way. It slams into your chest, lifts your from your feet, and sends you hurtling backwards… directly through the dimensional rift.
The psychic assault emanating from the cranial slugs burrowing into your skull suddenly forms a horrific neural net that short circuits through your synapses. Take 3 Intellect damage… and the creature has taken spastic control of your limbs. You'll attack Sheera next round.
Your razor wing hurtles towards his face, but his hand snaps up with lightning speed, snatches it from the air, and whips it back towards you. Give me a Speed defense check.
I find that these moments provide spikes of intensity and interest that can break up the normal cycle of a combat: Whenever the pace of an encounter seems to be lagging or has settled into a predictable cycle, the use of an intrusion immediately shakes things up. (Using unusual actions and events during a combat encounter is just good advice in general, of course, but intrusions really let you dial the intensity up to 11.)
One of the unique ways you can leverage intrusions to accomplish this, however, is by merely threatening the intrusion before the dice are rolled. This technique is particularly effective if you're using the Numenera XP cards: As the player prepares for the roll, simply grab two XP cards and hold them up for the table to see. The message is clear: If Heather fails her roll, something extra horrible is going to happen.
This is a form of metagame special effect: By raising the stakes of the roll, you focus the table's attention and passion on the die roll. This works particularly well in Numenera because the modifiers to a task are all applied to the difficulty: By the time you roll the dice, you know exactly what number needs to appear on the face of the die for success. When the die lands, there is an immediate and explosive release of all the tension built into that roll (one way or the other).
FREQUENCY OF INTRUSIONS
The Numenera core rulebook recommends one GM intrusion per player per session.
If that works for you, great. In practice, though, I've found that I'm using them about three times more frequently than that. I don't really have a specific goal of using X number of intrusions per session, of course. I just use them when it feels right (which usually means whenever I've got a good idea).
By the same token, you don't want to overuse your intrusions, either. Only use an intrusion if you've got a really awesome (or really horrible) idea. You want your intrusions to mean something.
The other thing you should be cautious of if you find yourself using lots of intrusions is the accumulation of XP: If your players are frequently spending XP to reroll dice, purchase short-term benefits, and the like you probably won't run into any problems. If you end up with a table which is consciously hoarding their XP and refuse to spend it on anything except character advancement then plenteous intrusions can make the problem worse.
(In general, though, hoarding XP in Numenera produces a sub-optimal experience in any case. So you should try to figure out how to get your players to use XP in the way the game intends: That might mean that you should be doing a better job of offering awesome short-term benefits to encourage XP expenditures. Or it might just mean talking to your players and making sure they understand the opportunities they're passing up. Or, as the rulebook suggests as an alternative solution, you could also just impose a ratio of short-to-long-term XP expenditures.)
DON'T NEGATE SUCCESS
The final word of caution I would give about the use of intrusions is this: Don't negate success.
The rulebook talks about using intrusions in order to force a task check even when the character would normally succeed automatically. In my opinion, such intrusions should be used very sparingly. And what you should never do is take a successful die roll and turn it into a failure. It's cheap and it's frustrating.
To be clear: It's okay to complicate success. Just don't negate it.
If their sword gets stuck in the mammoth-saur, the mammoth-saur still gets hurt. If they shoot the rope holding up the numenera device creating an interdimensional portal, the device still falls (even if the intrusion reveals that it's going to fall on top of them). If they succeeded in following the bad guy's tracks, they still succeed in finding the bad guy (it just turns out he's laid an ambush for them). And so forth.
I suppose this can probably be broadened into a general principle:
Your players should hate your intrusions, but they should love to hate them.