Robert J. Schwalb has a post hypothesizing that 4th Edition would have been more widely accepted if it had been formatted differently.
Fourth edition's presentation abandoned nearly everything familiar about the game's look. Eight years of 3rd edition, I think, created strong expectations about how the game should read and since the game didn't match the visual expectations, it certainly must not match the play experience.
He goes on to argue that 4th Edition wasn't as big of a shift from D&D if you compare it to the proto-4th Edition supplements being published by Wizards in the last couple years of 3rd Edition (Tome of Battle, for example). This is true. But I think Schwalb is ignoring the fact that their proto-4th Edition supplements were bringing with them proto-4th Edition critiques even before 4th Edition was released.
Schwalb also includes a PDF of what 4th Edition powers might have looked like if they'd been formatted more like 3rd Edition spells and asks, "I wonder if those changes might have been more palpable had we shifted back toward the old presentation, even if doing so meant that the game would be harder to learn."
I doubt it. Oh, I've seen some people comparing the new powers format to Magic: The Gathering cards and the like. But when you dig down into the real complaints people have about 4th Edition they tend to be either dissociated mechanics, abandoning the traditional D&D gameplay that existed from 1974-2008, dissatisfaction with the "miniatures are mandatory" combat, or some combination thereof.
Personally, I think 4th Edition has some great formatting. I've been completely sold on the idea that monster stat blocks should contain all the rules for running the monster since at least 2000 (when my earliest adventure prep notes for 3rd Edition prominently featured monster stat blocks modded to do just that).
So count me down pretty firmly in the camp of "I like the format, I don't like the rules".
And to that end, consider this small sampling of 3rd Edition wizard spells formatted with 4th Edition stylings: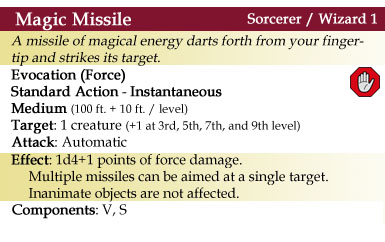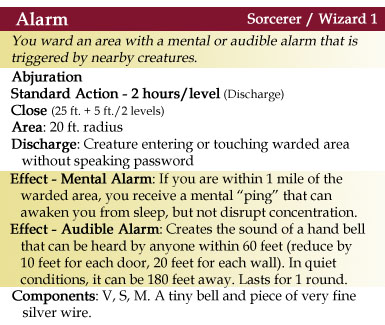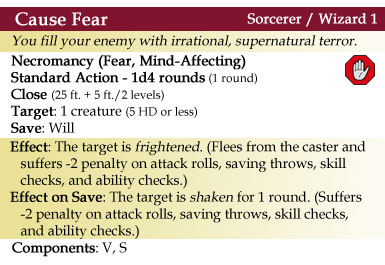 (The red hand indicates that spell resistance applies.)
And here's a 3rd Edition Goblin using a 4th Edition styled stat block structured similarly to my own revised stat blocks: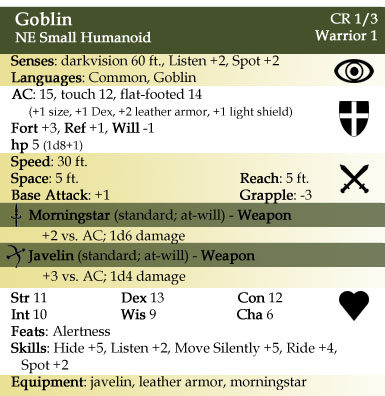 I doubt that such formatting would really have been a turn-off for anybody. (In fact, Paizo's reformatting of spells for Pathfinder spells is not terribly dissimilar, albeit slightly more conservative.)
In fact, let me go one step further: Schwalb hypothesizes that 4th Edition might have been hurt by its radical formatting shift. I think the opposite is true. I think 4th Edition's superior formatting has attracted people who would otherwise have stuck with 3rd Edition. Significant chunks of the utility 4th Edition gets praised for (like including all of the rules necessary for running a monster in the monster's stat block) is stuff that can just as easily be done in 3rd Edition.