Tagline: The world of Tékumel is an exciting, interesting, detailed setting. Unfortunately, Man of Gold is possessed of many flaws.
This review is the second in a series of reviews designed to analyze the Tékumel product line in depth. The first review – a general overview of the Tékumel setting, publishing history, and other miscellaneous information – can be found under the title "Tékumel " in the archives here at RPGNet here.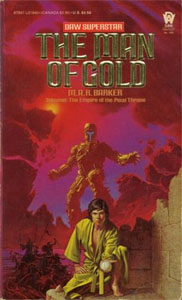 Man of Gold has exactly one saving quality to it: It's set on the world of Tékumel which (as we all know from my last review) is a really great setting. Far too many well-written novels suffer because the world-building skills of the author are substandard; this one has a world beyond compare, but it is poorly plotted, its characters are poorly conceived, and at the end of the book you are left completely unsatisfied.
[ Spoiler Warning: This review will contain certain spoilers. I'm not going to render the entire plot, but I will discuss events and character development from later parts of the book in some general detail. Proceed at your own risk. ]
To begin with, for a setting with such originality – and one which is very differentiated from any other fantasy world – it is sad to see M.A.R. Barker fall into so many cliched stereotypes when it comes to characters and situations. For example, from the very beginning you have the young orphaned boy raised in an alien culture (the insectal Pe Choi) who doesn't know his own parents; the beautiful lady who is far above the hero's own stature; a vastly important mystery which (due to a fantastic twist of fate) only our inexperienced and naïve hero can solve; and so on. The fact that about 90% of these cliches, in the end, don't go anywhere (you never do find out who his parents are, despite all the fuss made about it at the beginning of the book) doesn't make them any better. If anything, it probably makes them worse.
Second, large portions of the plot (like the cliches) don't need to be there. The whole thing could have been seriously tightened up.
Third, the plot is riddled with large, unjustified gaps of time in which the characters have apparently been put on pause not so much because they have a reason to be put on pause, but because Barker needs time to have other events get to the point where he needs them to be.
Fourth, this book is oversexed. I can accept (and even enjoy) the lack of the same nudity taboos which we possess; but when the scene from The Wrath of Khan where Khan drops parasitical slugs into Chekhov's and Paul Winfield's ears is reenacted except, this time, with a beautiful young woman and her, shall we say, sexual orifice, Barker has crossed the line between "oookkaaayyyy" and "unnecessary and detracting".
Fifth, the ending is weak due to a lack of proper execution. All the elements are there to make for a really satisfying conclusion to this story, but they are put together and constructed in a manner which simply leaves you going "ho hum". Several other critical stages in the plot suffer from this same general problem – which appears to be a combination of passive prose, poor character motivation, and bad event timing. However, the ending suffers particularly because Barker mixes in the ever-frustrating "hero who doesn't see the obvious". If this is bad enough by its own, it is even worse when the obvious is the entire point of the story.
Despite these flaws, the book is still worth reading – largely due to the world-building skills Barker displays. Watching the workings of the intricate Tsolyáni political maneuverings first hand, getting to explore the underground remnants of ancient civilizations, watching as the naïve play with scientific trinkets far beyond even our own comprehension, having the workings of the gods demonstrated and explained. All of this and more makes this worth the day or two it should take you to skim through it.
In addition, if you intend to roleplay in Tékumel then reading this novel (and the next one, Flamesong) will be extremely useful to you in getting a feel for the extremely alien culture presented. This, more than anything else, is why I decided to review Man of Gold first, despite my negative feelings regarding it – it provides a good place to take your first step into this new world.
For those of you reading this after it has been placed in the archive and interested in reading the series in sequence, the next review will be of the novel Flamesong.
Style: 2
Substance: 4
Author: Professor M.A.R. Barker
Company/Publisher: DAW Books, Inc.
Cost: $3.50
Page count: 367
ISBN: 0-87997-940-2
Originally Posted: 1999/07/19
For an explanation of where these reviews came from and why you can no longer find them at RPGNet, click here.