In my review of the Magic the Gathering Official Encyclopedia yesterday I mentioned how Magic cards can be used to great effect as a quick source of inspiration. Here are a couple quick examples of this from my own campaigns.
ARBORETUM GROTTO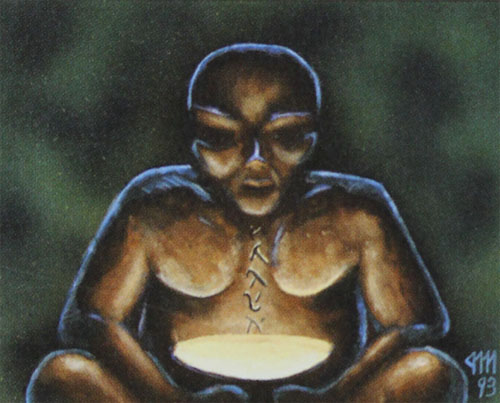 "Clay Golem" – Magic the Gathering: Fourth Edition
A thick, tiered cleft. Magical lights clinging to the ceiling seem to cast daylight down onto the thick pleats of overgrowth choking the miniature, underground veil.
SPINDERS: 8 spinders roam through the overgrowth. (These can be found in the Book of Fiends, one of the best bestiaries ever produced.)
STATUE OF LIGHT: In the middle of the grotto sits a squat statue of clay clasping a bowl which seems lit from within. (See visual handout, above.)

LIQUID LIGHT: The bowl is filled with liquid light. Anyone touching the liquid will cause it to flow up over their hand (or hands). From that point forward, their hands will permanently glow white — producing the effects of a daylight spell.

ALCHEMY (DC 25): Recognize that most of the plants growing here are actually valuable alchemical ingredients. 6 hours harvesting could yield 5,000 gp of raw ingredients.
THE GLASSWORKS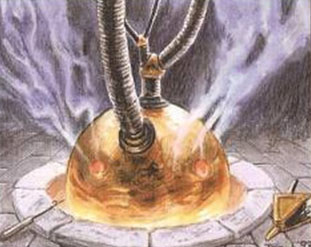 "Urza's Power Plant" – Magic the Gathering: Antiquities
A twisted morass of glass piping filled with flowing fire.
THE ARTIFURNACE: Near the center of the twist labyrinth of glass is the Artifurnace. Eight large valves run around its circumference . (See visual handout, above.)

CRACKING THE ARTIFURNACE: If all eight valves are released, the Artifurnace can be opened.
HELM OF FIRE ELEMENTAL CONTROL: Suspended within the Artifurance is a helm of fire elemental control (crafted from brass and gold). But it doesn't work: One wearing the helm can summon a Large fire elemental, but anyone wearing the helm will instantly provoke rage from any fire elemental.

FIRE ELEMENTALS: If any of the glass tubing is broken or the valves of the Artifurnace opened, the fire elementals trapped within the tubing will break free in a rage.

1 Huge Fire Elemental, 2 Large Fire Elementals, 16 Small Fire Elementals

DM BACKGROUND: The idea was to create a magical item through entirely sympathetic rituals (by controlling the fire elementals physically, imbue an item with the ability to control them). Instead, the item became imbued with the rage of the imprisoned elementals.