One of the most overlooked aspects in the design and play of traditional roleplaying games is the underlying game structure. Or, to put it another way, there are two questions which every game designer and GM must ask themselves:
(1) What do the characters do?
(2) How do the players do it?
These questions might seem deceptively simple, but the answers are complex. And getting the right answers is absolutely critical to having a successful gaming session.
Some of you may already be challenging this. "How difficult can it be? The players tell me what their characters are doing and then we resolve it. What could be easier?"
To demonstrate the oversight taking place here, let me give you a quick example of play:
Player: I want to explore the dungeon.
GM: Okay, make a Dungeoneering check.
Player: I succeed.
GM: Okay, you kill a tribe of goblins and emerge with 546 gp in loot.
Is there anything wrong with that? Not necessarily. But it's certainly a very different game structure than the traditional D&D dungeoncrawl.
And, of course, that example already assumes that the PCs are fantasy heroes who do things like dungeoncrawling. Given the exact same setting and the exact same game system, they could just as easily be monarchs, dragons, farmers, magical researchers, planar travelers, gods, military masterminds, or any of a dozen other things for whom these dungeoncrawling game structures are irrelevant.
BOARD AND CARD GAMES
The reason game structures become an issue for us is because roleplaying games are functionally open-ended: There is an expectation (and a reasonable one) that the players should be able to say "I want my character to do X" and then we'll be able to figure out if (a) they're successful and (b) what happens as a result.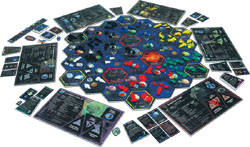 Traditional board and card games don't run into this problem because their game structure is rigidly defined and limited by the rules: Each time you take a turn in Monopoly or Chess or Arkham Horror there is a precisely defined sequence of actions for you to take. The complexity of this structure can vary quite a bit – in Candyland you simply follow the instructions in order; in Twilight Imperium your decisions would require an incredibly complicated flowchart to model – but the structure is invariable and comprehensive.
Or, to put it another way, boardgames and card games always have an answer to the questions of "What should I be doing now?" and "What happens next?"
ROLEPLAYING GAMES
Consider a hypothetical scenario in which you drop a group of PCs onto a random street corner. Now, take the same group of PCs and drop them into a random room in a dungeon. Why does one group say "I head through the north door" while the other says "I go looking for the local police station"? Why doesn't the guy in the dungeon say "I go looking for the treasure" and the guy on the street corner say "I take the street on the left"?
Partly, of course, this is a matter of each group of characters having a different set of immediate goals. But it has a lot more to do with habits that have been casually engrained into us through years of playing RPGs.
Another example: Consider the difference between playing D&D and playing the Wrath of Ashardalon boardgame. Both feature similar mechanics, similar settings, and similar character goals. Why is my D&D group likely to spend time examining the walls and investigating arcane circles while my Wrath of Ashardalon group isn't? Because the game structure is different.
In addition, as our example of dungeon vs. urban scenarios suggests, roleplaying games will often switch game structures. By contrast, computer games usually don't swap game structures, choosing instead to unify their gameplay: In Elder Scrolls you use the same interface and commands whether you're exploring a dungeon, traveling through the wilderness, or shopping in town.
On the other hand, games like Final Fantasy VII give you an overland map for travel. And Elder Scrolls V introduced a "fast travel" system that also changes that structure. Meanwhile, at the other extreme, the engine for the original Bard's Tale was so limited that the town of Skara Brae was a murderville in which citizens attacked like monsters and the gameplay was almost completely indistinguishable from the dungeon at even the micro-level.
In a similar fashion, when I was twelve years old, I tried to run my earliest wilderness adventures as if they were dungeoncrawls: "Okay, you see some trees. What do you do?" "We go north." "Okay, you go about a hundred feet. There are still trees. What do you do now?"
Use the wrong game structure and you can end up with a really lousy game.