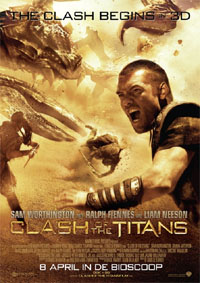 It's very important, when hiring a screenwriter, to make sure that they aren't suffering from a terminal case of ADHD.
Perseus: I will do this without the help of the gods!
Some Guy: Our comrades are dying because you won't let the gods help!
Perseus: It's important that we show that humans can stand on their own!
That's a paraphrase, but it's straight from the film. And while one could argue whether or not Perseus is right, it's certainly an interesting premise to build a film around.
Unfortunately, the screenwriter forgot the film he was writing. Because as soon as all of Perseus' comrades have died, Perseus decides to start accepting help from the gods. Apparently Perseus is okay with sacrificing other people for his ideals, but if he has to make the sacrifice himself? Forget it.
And it would be one thing if Perseus was forced to make the hard and deliberate choice to abandon his conviction. Or, in fact, if the film had shown him making any kind of choice whatsoever. But that's not what happens: Instead he just kind of shrugs his shoulders and changes his tune. Heck, even that's an exageration: He, along with the film, simply forgets that there was ever any sort of "fight the gods" plot happening.
Then, just to make things a little more half-assed, at the end of the film Zeus revives Perseus' girlfriend so that they can live happily ever after. All of the other poor schmucks who died because Perseus was a dick? Perseus doesn't care.
Because Perseus is a dick.
The rest of the script is just kind of a fractal variation on this core failure of logic and character arc. On the plus side, the special effects are pretty cool.