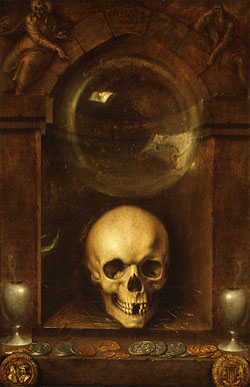 This may only be interesting to me, but somebody pointed me in the direction of a story on Reddit featuring one of my gilted fiends.
The title? Holy crap! Did I just let them resurrect an ancient dead elven king?
I think this may have particularly resonated with me because it coincidentally resembles an encounter I wrote for The Fifth Sepulcher. (Which I've realized I penned for Fantasy Flight Games more than a decade ago now. Ouch. Right in the age.) That encounter originally read:
Two sets of golden double doors face each other in this red-carpeted chamber. Six golden thrones — in two rows of three — face each other, and six figures sit upon the thrones.
These are six of the Seven Daughters of Lynmoor. The seventh, of course, is Queen Elisabet — who was interred in area 13. Each of the Daughters is under the effect of a permanent gentle repose and magic circle against evil enchantments (cast at 20th level). These spells have kept their bodies perfectly preserved, and protected them from the effects of the Necromancer's Stone.
Note that the Daughters were prepared in this manner against the prophecy that they would rise again to save Lynmoor in her darkest hour. If the PCs take the proper actions (casting raise dead, for example) this could be that hour. (The Daughters are 8th to 12th level sorcerers.) However, if the enchantments are disrupted without returning the Daughters to life (through the use of a dispel magic spell, for example), the Stone will immediately transform the Daughters into liches.
If I recall correctly, when Alan D. Kohler reviewed the module he was not a fan of the fact that there was no particular compulsion forcing the PCs to raise the daughters. He also felt there was no way for the PCs to be aware of the prophecy or the magic preserving the daughters. The former is really just a Knowledge (history) check, of course, and the latter would seem to be a natural consequence of the PCs showing any interest at all in six perfectly preserved corpses in a dungeon and performing the logical investigations.
But I digress.
Unfortunately, if JCY2K ever posted a follow-up to let people know what happened at his next session, I haven't found it. Still, it's nice to know that I've been a major force for resurrecting long-dead royalty for more than a decade.