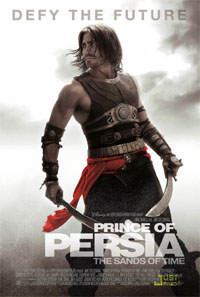 Dear Prince of Persia,
You have one gimmick: A dagger that lets you rewind time.
You might want to try using it to some meaningful effect at some point during your movie.
Sincerely,
Justin Alexander
In all seriousness, Prince of Persia: The Sands of Time is a fairly entertaining action-adventure flick. But it's not particularly clever, and that's disappointing because a dagger that lets you rewind time should give you plenty of opportunities for cleverness.
I think the film's real source of struggle is that they turn the Prince into the infallible star of an action movie: For example, one sequence has him effortlessly surf his way down an avalanche of sand, parkour-leap perfectly onto a narrow ledge, and somersault his way into the next chamber. And he's doing that sort of thing pretty consistently throughout the entire movie.
But the essential nature of the dagger of time is that it lets you erase your mistakes. So if you never let your prototypical action hero make any mistakes, then you're knee-capping your premise. The disappointing thing here is that the dagger of time gives you the opportunity to create a prototypical action hero who is still a fallible human being (because he achieves that action hero perfection through the use of the dagger) — thus re-creating cinematically the same basic appeal that the game had.
The film also chickens out of using the incredibly funny-yet-bittersweet ending from the original game, opting instead for a paint-by-numbers Hollywood Romance ending. Which I, personally, find disappointing.
Final analysis: Fun to see, but nothing you're going to remember six months from now.