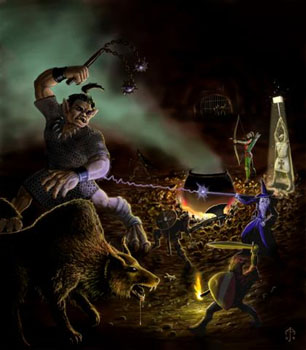 As I mentioned last month, my adventure The Halls of the Mad Mage won an Honorable Mention in the One Page Dungeon Contest. It has now been collected in the One Page Dungeon Codex 2009, a collection of the winning entries from the contest. You can also check out the One Page Dungeon Compendium, which collects all of the entries to the contest.
I haven't had a chance to do more than skim over some of the material, but it looks like there's some really amazing stuff in there. I'm looking forward to seeing what I can cull from it into my Ptolus and Borderlands campaigns.
You might also be interested in taking a look at the One Page Dungeon article at campaignwiki.org. Primarily assembled by Alex Schroeder, it includes links to the blog posts of the individual creators in the contest (often offering some really interesting insight into their design process).