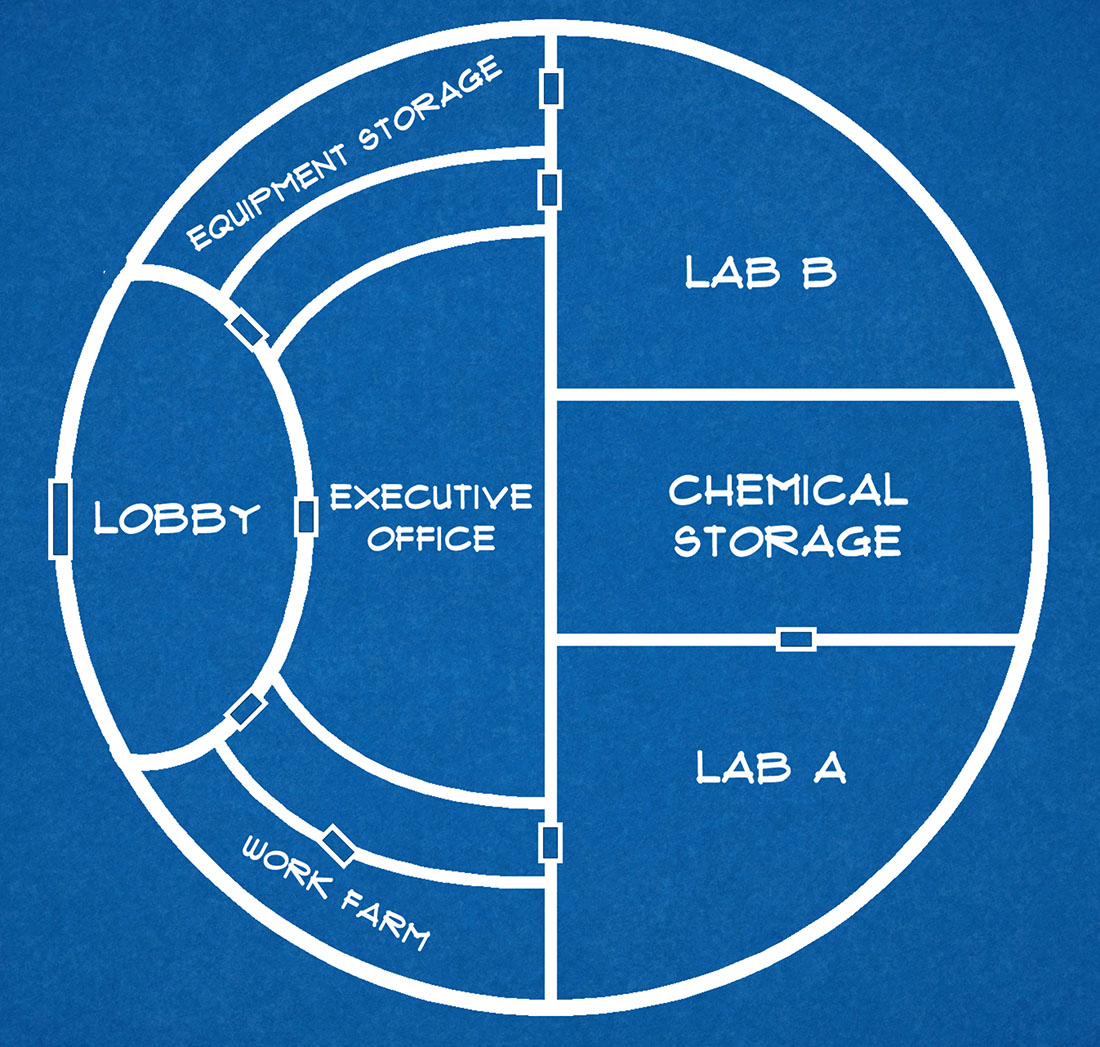 On paper, Neuralite is a small freelance neo-genetic research farm. Anyone digging into the company's background will quickly figure out that they're actually just a cut-out corporation for Cognite, allowing the hypercorp to perform black book research projects with greater deniability. (Actually proving that would be a completely different ball of wax, of course.)
RESEARCH (-20): Research into Neuralite may also turn up the fact that six months ago, through a dummy subsidiary, they obtained a contract to provide security for the Nova York Water Treatment Facility. (This is odd because it's way out of their area of expertise.)
NEURALITE OFFICE: The Neuralite facility is a large sphere hanging from one of the "bauble spindles" in Nova York. (A spindle-scraper with a multitude of spheres hanging from it.)
PERSONNEL:
Eric Radom, CEO (pg. 16)
Laura Panna, COO (pg. 16)
Lysander Vangelis, Lead Researcher (pg. 17)
8 Research Scientists (NPC File 1, pg. 13)
6 Tech Support (NPC File 1, pg. 16)
Lysander Vangelis may already be onsite at the Water Treatment Plant (see Node 5).
SECURITY:
2 Security Troopers on guard in the Lobby. (NPC File 1, pg. 15)
Security AI
Guardian Angel
---

NEURALITE SECURITY AI: Aptitudes: 10, INT 20. Skills: Beam Weapons 40, Hardware: Electronics 30, Infosec 40, Interface 40, Professional: Security Systems 80, Programming 40, Research 20, Perception 40.

---

GUARDIAN ANGEL: Movement 8/40, Max Velocity 80, Armor 14/12, DUR 40, WT 8, Rotor

+5 REF, 360-Degree Vision, Access Jacks, Chameleon Skin, Eelware, Enhanced Hearing, Enhanced Smell, Enhanced Vision, LIDAR, Light Combat Armor, Neurachem, T-Ray Emitter

Laser Pulser: DV 2d10, SA. (Stun Mode: DV 1d10, SS, biomorphs make SOM x 2 and synthmorphs make SOM x 3 test. On failure, lose next action. Critical failure paralyzed for 1 turn per 10 points of MoF.)

---
MODYA SURVEILLANCE: Neuralite has been monitoring Modya since the incident at Black Light. Modya herself is covered in taggants from a hive which has been hidden in her apartment. (See Node 2.)
One workstation in the Work Farm is dedicated to the surveillance work.
The tech assigned to the surveillance (and the fork of his muse actively monitoring it) could answer questions about it.
Accumulated footage is also stored on Neuralite's servers.
LAB A: Lab A was where the epsilon primer and epsilon psike-out was developed. The lab has recently been cleared out and sterilized. (The chemicals were moved to Node 5 for dispersal and Neuralite is beginning to position themselves for plausible deniability.)
LAB B – CELL CULTURES: Lab B is analyzing the epsilon primer and epsilon psike-out in active cell cultures and also from samples taken from test subjects (both null results and active results).
These cell cultures can confirm that Neuralite is behind all of the recent incidents. They can also be used for medical analysis (see Node 3).
THE PLAN: The full report of Neuralite's plans, the time they plan to release the epsilon psike-out, and the fact that they already have installed the mechanisms necessary at the Water Treatment Planet (Node 5).
Full plan available from Neuralite's servers.
Questioning Eric Radom or Lysander Vangelis (they know everything).
Researchers won't want to violate their NDAs (severe consequences), but can confirm all the scientific data about psi-epsilon operner. Each researcher also has a 50% chance of knowing one detail of the plan.
Each tech support member has a 25% chance of knowing one detail of the plan.