And at long last, the Hexcrawl essay draws to a close. As a final parting gift, I offer up two cheat sheets for running your own hexcrawls.
The Basic Cheat Sheet offers the stripped down core of the game structure. If you occasionally found your eyes glazing over during the previous 12 installments, this is probably the cheat sheet for you: Just basic navigation, encounter checks, and hex movement.
The Advanced Cheat Sheet is the full package: It includes the full watch checklist, the robust encounter system, the ability for characters to become lost, all the modes of travel, terrain modifiers, foraging rules, and tracking. The whole nine yards. (The tenth yard is the one where you make an awesome campaign out of it.)
Of course, you can also selectively pick-and-choose from the advanced elements, deciding what stuff you want to incorporate into the basic system.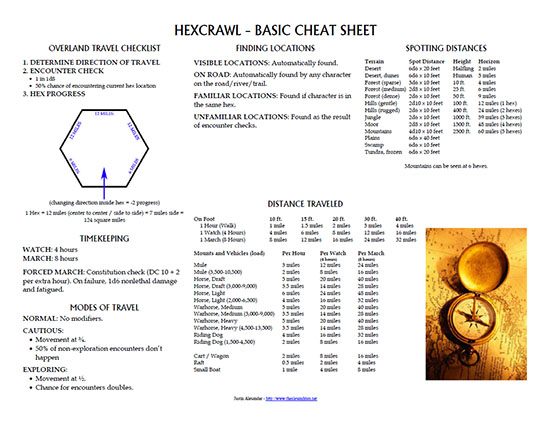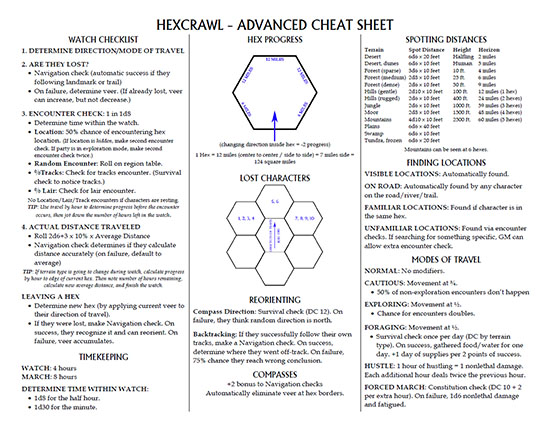 FURTHER READING
Thought of the Day: Hexcrawl in the Underdark
Check This Out: Hexcrawl Tracks
Check This Out: Hexcrawl Sighting Distances
Game Structures
Thinking About Urbancrawls